Chocolate Pumpkin Muffins (no eggs)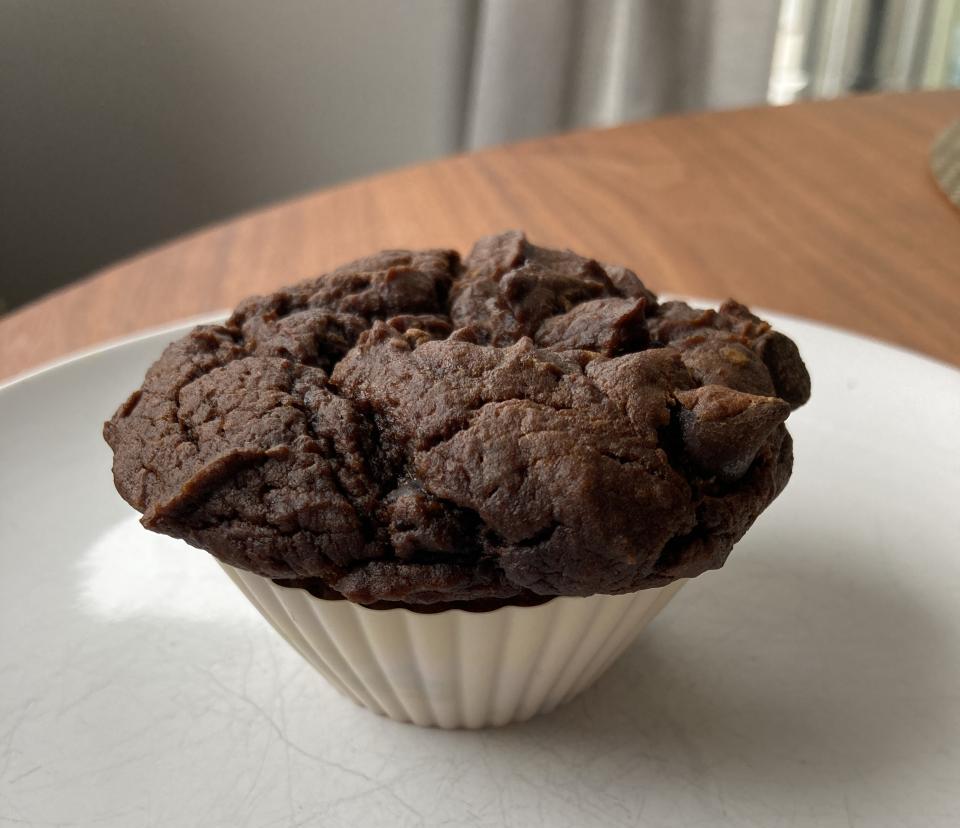 These chocolate pumpkin muffins use aquafaba (the liquid from a can of chickpeas) instead of eggs and the are light and delicious. I had pumpkin left over from a loaf I baked up but no eggs. It got the base recipe from Cookiemadness.net (Easy Aquafaba Chocolate Pumpkin Muffins) and changed it a wee bit.
Ingredients
1/4 c sunflower oil (or light tasting oil of your choice)
1/2 c brown sugar (I'd use 1/4 next time, they were plenty sweet)
1/4 c aquafaba liquid from 14 ounce can of chickpeas
1 tsp vanilla
3/4 c plain pumpkin puree
3/4 c flour 100 grams
2 Tpsp unsweetened cocoa powder
1/2 tsp baking soda
1/2 tsp baking powder
1/4 tsp salt
1/2 chocolate chips
Instructions
Preheat oven to 400 F.
Line 6 muffin cups with silicon/paper liners or grease.
In a large bowl, whisk up the aquafaba until starting to get light and foamy (it really does behave like egg whites).
Stir in the oil, pumpkin, and vanilla.
In a second bowl combine all the dry ingredients with a whisk until well blended.
Add dry ingredients to the pumpkin mixture and stir until blended.
Stir in the chocolate chips.
Divide the batter among muffin tins. It's thick enough so that you pile it up (don't worry it bakes up light).
Bake at 400 F for 10 minutes. Reduce heat to 350 and bake for another 15-20 minutes (check at 15). I added extra pumpkin to the original recipe so had to up the baking time.
Let the muffins cool before removing from pan.
Makes 6 (I haven't tried doubling the recipe).
Delicious!
---
---