Cuban Black Beans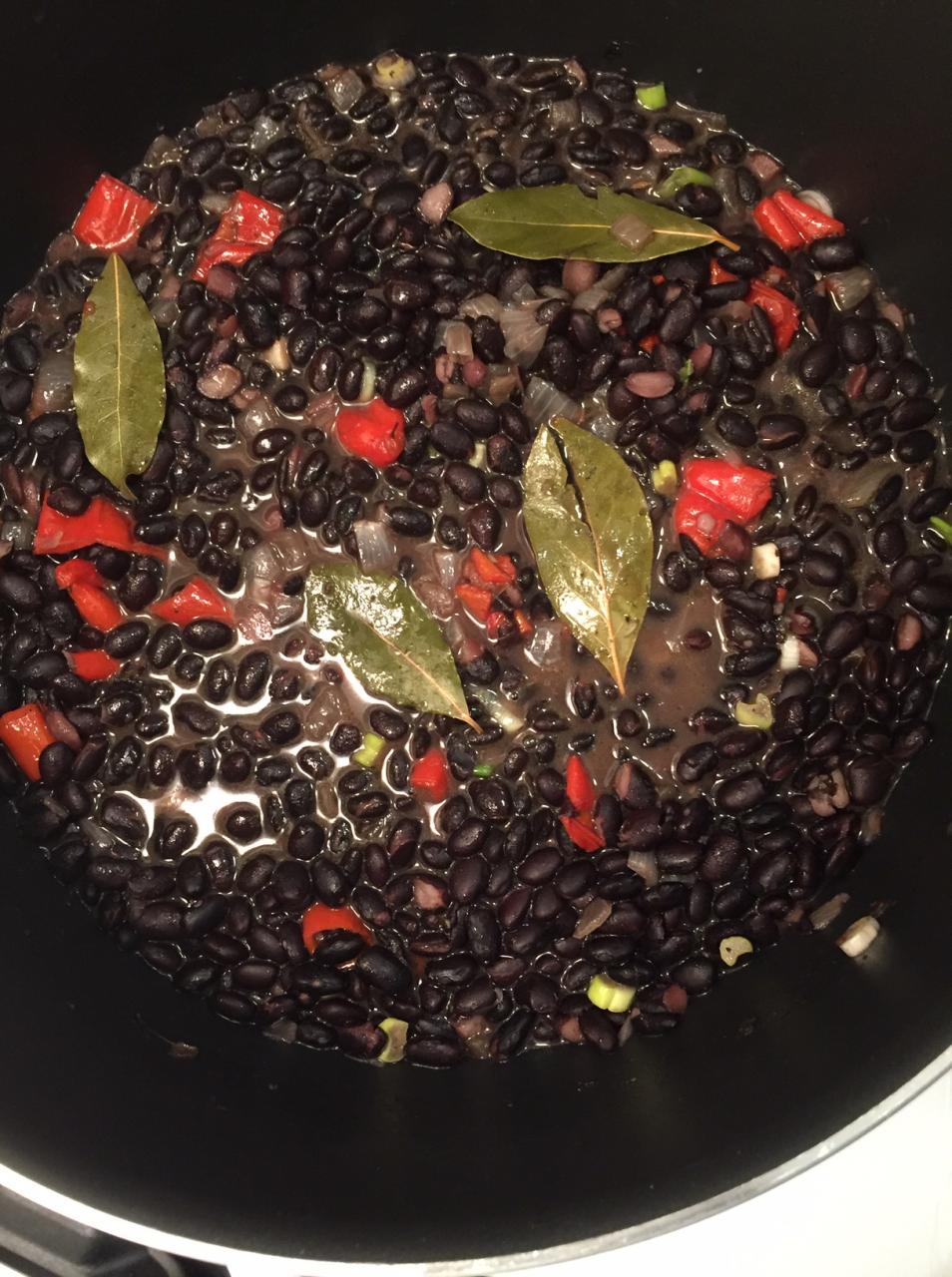 I won't lie, this recipe takes time. But we are in the middle of a global pandemic and I'm stuck inside so time is what I have. I also have a lot of beans in the cupboard and I've always wanted to try making my own black beans. My friends Julio and Rita made the real deal for a salsa party we co-hosted before life went sideways but they have a pressure cooker, I do not. So, it was old school for me. I followed the instructions on the back of the Dan-D-Pak bean bag and part of the recipe but I added the spice combo that Julio told me he used.
Ingredients
400 g black beans (cooked), or canned if you want
2 small onions, chopped
4 cloves garlic, minced
3 Tbsp olive oil
1/2 tsp fresh ground black pepper
1/2 tsp oregano
1/2 cup sweet red peppers, rough chopped
1/4 cup white wine
1/2 tsp sugar
4 bay leaves
1 tsp cumin seeds
2 allspice balls
2-3 Tbsp fresh lemon juice
Method
If you are cooking the beans from dry, in a large pot add the beans, 9 cups of hot water and 1 tsp of salt.
Bring to a boil and continue boiling for 3 minutes.
Turn the heat off, cover, and let the beans soak for at least 4 hours.
Drain, rinse, and put the beans back in the pot.
Cover the beans with 6 cups of fresh hot water (should be 1″ above the beans) and add 1 Tbsp of olive oil and 2 tsp of salt.
Bring to a gentle boil with the lid half tilted.
Boil until tender. This will take a couple of hours. Add more water as you go to keep the beans covered.
Once the beans are tender, turn the heat off and let the beans cool while you prep the rest of the ingredients.
In a large pot saute the onions and garlic in 2 Tbsp of olive oil until the onions are translucent.
Add the oregano and continue sauteing for a few more minutes.
Add the beans and their liquid to the pot.
Add the rest of the ingredients and give it a good stir.
Bring the beans to a boil and reduce the heat to a simmer.
Continue simmering for at least another hour.
Turn the heat off and add the lemon juice.
Makes about 4 cups of beans and the are muy buenos frijoles.
---
---