Gluten-free Focaccia (of sorts)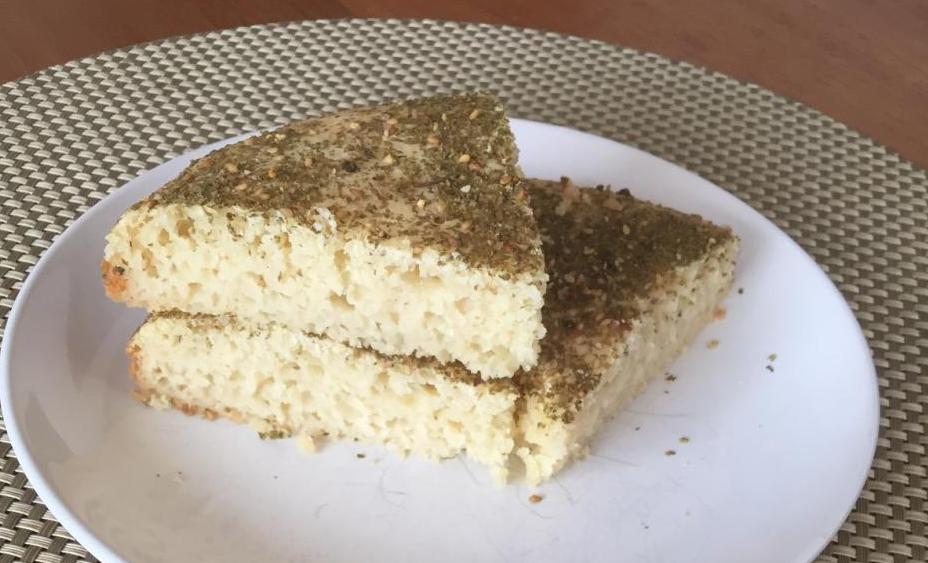 This gluten-free focaccia started out as a riff on The Best Gluten-free Pizza Dough from Meaningfuleats.com. I had made some DIY Gluten-free Flour Blend from Glutenfreepalate.com and wanted to test drive it. However, the dough ended up super wet; probably because I didn't measure the flours properly. Faced with dough "soup," I added one 1/4 cup of coconut flour to see what would happen. Side note: my experimentation with bread goes back to my childhood when I decided white glue and coffee grounds were just the ticket for one particular loaf.  How I didn't cause a fire or some sort of deadly chemical gas I will never know. I was seven at the time and no one ate it so cut me some slack. Anyway, this is not that. On the contrary, the result in this case had a really nice internal structure and taste that reminded me of focaccia. I topped it with salt, pepper and zatar before baking. I will definitely make this again, but next time I will bake it on greased baker's parchment.
Ingredients
1 cup hot tap water, about 110F
2 Tbsp olive oil
1 Tbsp honey
1 1/2 teaspoons instant yeast
1 1/4 cups Gluten-Free flour
1/4 cup almond flour
1/4 cup coconut flour
1 teaspoon baking powder
3/4 teaspoon salt
1 Tbsp egg replacer (I used Bob's Red Mill)
1 Tbsp zatar
Salt and pepper to taste
Method
In the bowl of a Kitchen Aid fitted with the dough hook, combine the yeast, flours, baking powder, salt and egg replacer. Give it whisk to combine.
Combine the warm water, olive oil, and honey in a measuring cup. Whisk to combine.
With the mixer running on low, slowly add the liquid ingredients to the dry.
Increase the speed to medium-high and beat for 3-4 minutes. Stop ad mid-point and scrape the sides of the bowl down.
Remove the dough hook, scrape down the sides, cover with a tea towel and place the bowl in a warm spot to rise for 30 minutes.
Preheat the oven to 350F. Oil a pie plate (really well) or a oil a piece of baker's parchment on a baking sheet.
Scrape the dough into the pie plate or onto the pan letting it "pool" naturally.
Grind salt and pepper over the top and sprinkle all over with zatar.
Let rise for another 10 minutes.
Bake for 30 minutes.
Remove from oven and let cool at least 5 minutes before you try taking it out of the pie plate or slicing it.
---
---