Annabel's Chicken Thighs on Fennel Pillows avec Ratatouille a la Rob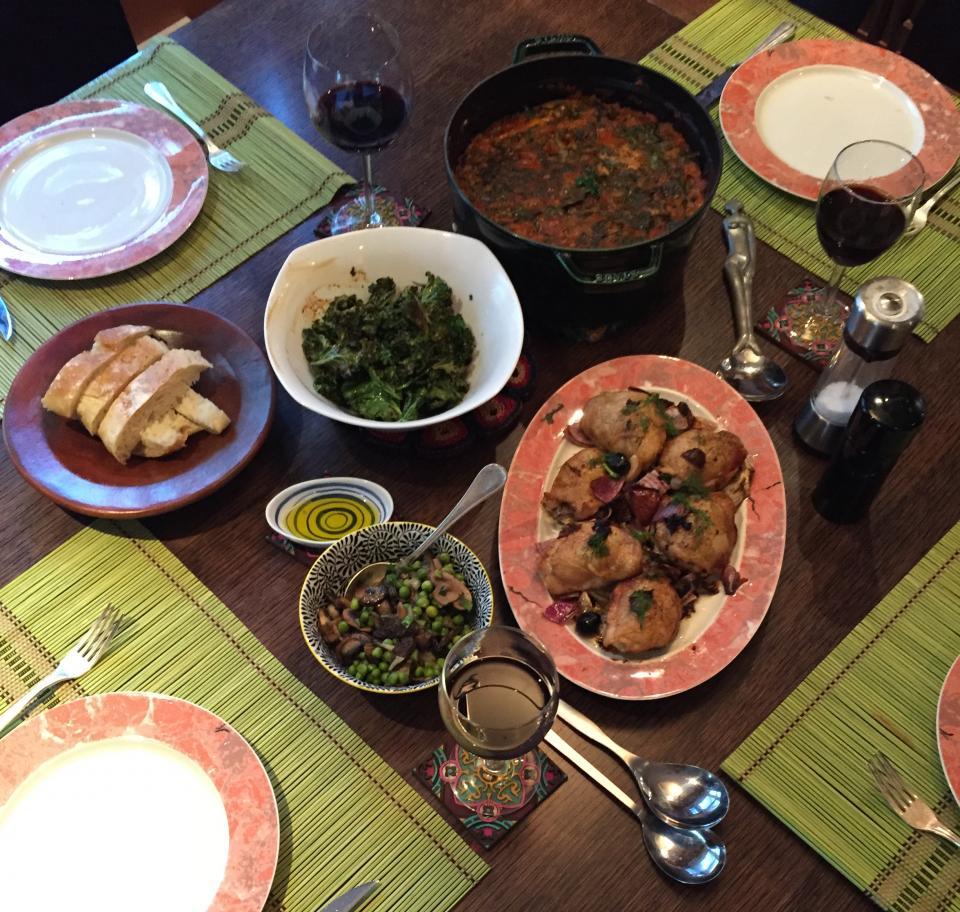 Roast chicken thighs and fennel are natural friends. I'm very lucky to have friends who are generous with both their spare rooms and their culinary talents. This particular evening I arrived at their place to find a full on Cordon Bleu adventure taking place. On deck was a ratatouille from Julia Childs' The Art of French Cooking*, and a roasted chicken dish that Annabel made up (clever clogs). My contribution was "making" the name (ha). Completing the meal was oven roasted kale and sea salt and a saute of fresh English peas, white mushrooms and, wait for it, morels (yes, you may swoon now). There are few things better than dinner with friends. Thank you both! As an added bonus, Gabe (a future concert pianist, I have no doubt), serenaded us while the food bubbled and sizzled and filled the house with the very best of aromas.
*If you are a purest, follow Julia, if you want a no fuss version, you might try Alice Waters' (no fuss) Ratatouille.
Ingredients
6 chicken thighs, bone in, skin on
1-2 large fennel bulbs, washed, trimmed and sliced vertically to create 6 "pillows"
1 large red onion, roughly chopped
6-8 smashed and peeled garlic cloves
1 Tbsp olive oil
1-2 Tbsp Italian herbs of your choice
Salt and pepper to taste
Handful of black olives
Chopped fennel fronds for serving (or other fresh herbs that you like)
Method
Preheat the oven to 400F
Freshen the chicken thighs with lemon juice and pat dry.
Dredge the chicken thighs in the Italian spices (shake off excess).
Oil a shallow, oven proof dish and lay out the fennel.
Place the chicken thighs skin side up on a fennel pillow.
Sprinkle with the red onions.
Bake for 30-45 minutes (?), or until the juices run clear.
Add the black olives for the last 10 minutes of cooking time.
Remove from the oven and let stand for 5 minutes.
Sprinkle with chopped fennel fronds for serving (or other fresh herbs would be nice too).
Serves 4
---
---