Guyanese Chicken Curry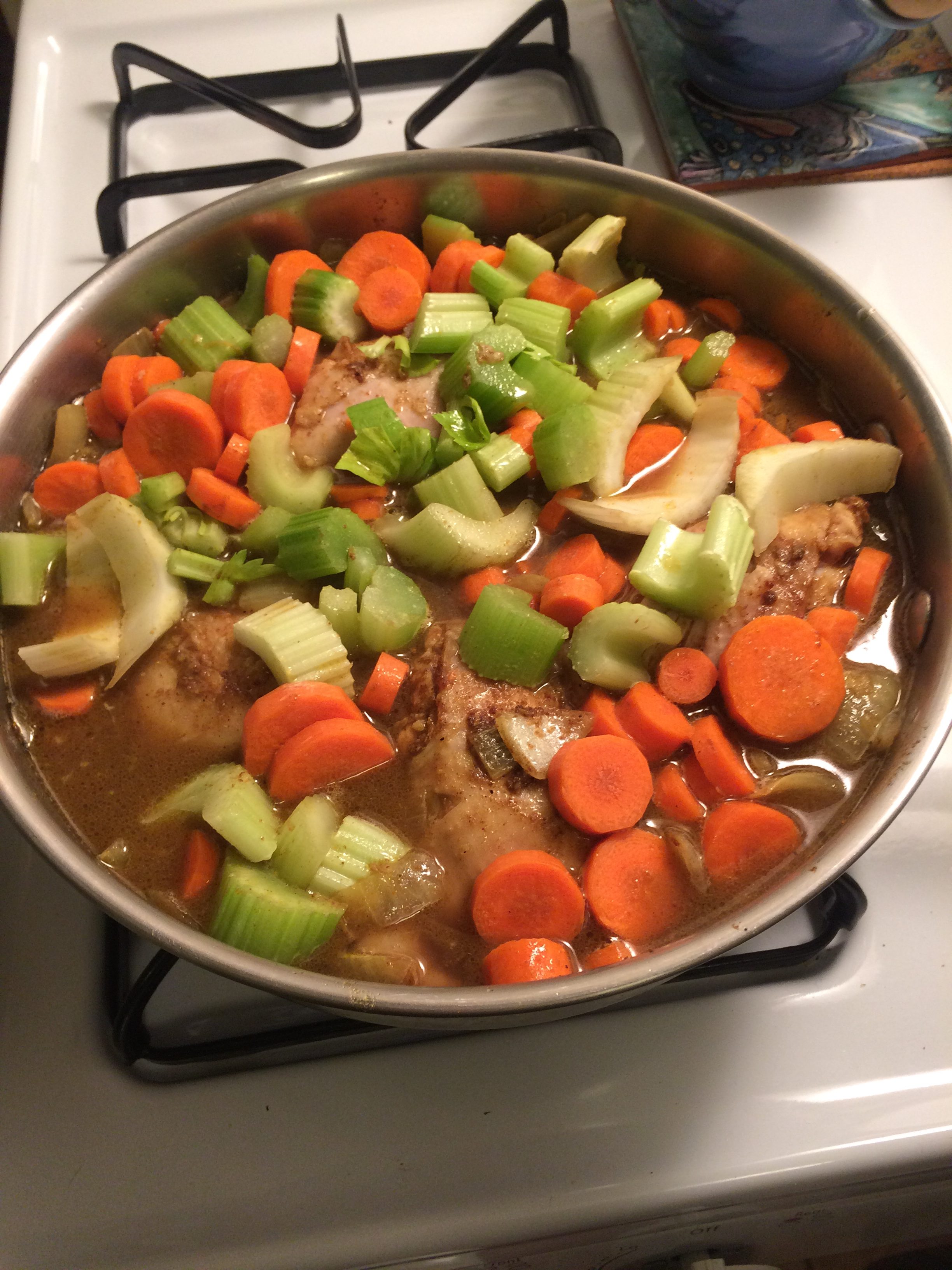 Guyanese chicken curry has more flavour than heat. It's easy and delicious but you do need to invest in some Lalah's curry powder (it is simply the best). You will also need a large deep frying pan with a lid.
Ingredients
6-8 chicken thighs and drumsticks (bone in, skin on…the chicken fat and bone are the secret ingredients)
Juice of 1/2 lemon to freshen the chicken
2-3 Tbsp vegetable oil
1 medium onion, rough dice
3 cloves garlic minced
3 carrot washed and cut in rounds (don't bother peeling them)
3 celery stalks washed and rough chopped
2 large potatoes rough diced
3 Tbsp Lalah's curry powder (Note: this brand is the best one for this curry)
1 Tbsp Garam Masala (recipe follows)
2 c water
Garam Masala (make first)
1 Tbsp ground cumin (or toast 1 Tbsp seeds and grind with mortar and pestle)
1 1/2 tsp ground coriander (you can toast these with the cumin seed and grind them together…that's what I did)
1 1/2 tsp ground cardamon
1 1/2 tsp ground black pepper
1 tsp ground cinnamon
1/2 tsp ground cloves
1/2 tsp ground nutmeg
1/2 tsp ground turmeric
Method
Wash chicken and squirt liberally with the lemon juice. Let drain.
Heat the oil on high in a big (and I mean big) frying pan with deep sides.
Add onion and fry for 3 minutes. Reduce heat to low and continue frying until onion becomes translucent and onions start to caramelize.
Add the minced garlic.
Add 1 Tbsp Garam Masala, 3 Tbsps Curry Powder and fry for another 3 minutes.
Add the chicken skin side down and fry for 4 minutes. Flip and fry for another 4 minutes.
Add 1 cup of water and stir to get the curry paste incorporated.
Add all your chopped vegetables and the other cup of water.
Cover and simmer on low for 1 hour and 15 minutes checking occasionally.
If the sauce is looser than you want add 1 c. mashed potatoes or mash up some of the cooked potatoes.
Serve over rice or with roti if you can get it…or dal puri if you are lucky enough to have some. This dish is even better the next day and will keep 3-4 days in the fridge or longer in the freezer.
Serves 8.
Note: Curry has a very strong smell – if you are tired of it lingering after the curry is long gone, put a pot of water to boil, add a cinnamon stick and let it simmer for about an hour. That should take care of it.
---
---