Pappa's Paella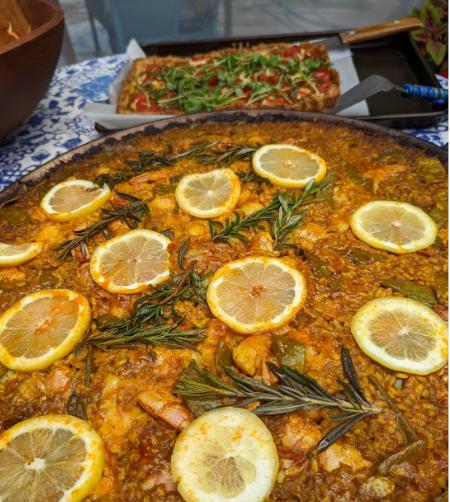 This paella recipe can be made with mixed seafood or chicken and chorizo. My Dad makes this on the barbeque using a traditional paella pan but you can make it on the stove using a large cast iron frying pan (which is what I happen to have). The recipe is a bit "loosy goosey" because you have to keep an eye on the rice and adjust the liquid to keep it absorbing.
Ingredients
1 chicken cut into 16 pieces (or equivalent of shrimp, scallops, and firm fleshed fish)
1 kilo of mixed fava and flat green beans
1 whole bulb of garlic, crushed, peeled and rough chopped
2 tsp salt
250 ml tomato sauce or crushed tomatoes
250 ml olive oil
1/2 c. pimento (paprika)
1 Tbsp colouring (heaping)…colorante alimentario (you don't really need it if you are using saffron)
pinch of saffron
2 links chorizo sliced thinly
800 gm paella rice (arborio)
double water or both – you'll likely need more
sprigs of fresh rosemary
1 whole lemon sliced fine into rounds
Method
Add oil and salt to a paella pan and heat over medium-high
Brown the chicken pieces well (if you are making a seafood paella put the seafood in during the last 10 minutes of cooking by nestling the shrimp, scallops and fish into the rice).
Add the vegetables
Move chicken and veggies to the sides and add chopped garlic in centre
Add paprika, tomato, colouring, saffron and chorizo
Add half of the stock (if you are making a seafood paella you can use mushroom/veggie stock or make a fish stock)
Reduce the heat to low and cook for 30 minutes
Spring the rice in cross shape into the pan and then gently spread out
Increase heat to high and cook for 10 minutes
Reduce heat to a simmer and simmer for 10 minutes
Add more liquid as it gets absorbed and stir the rice very little at this point (no molestar el arroz!)
Keep cooking until the rice is done (when tasting always take from the bubbling area)
Add rosemary springs and lemon on top and continue cooking 8-10 minutes.
If too dry, wet a clean kitchen towel and put on top to allow the steam to continue cooking the rise.
When the paella "sings"…it's 30 seconds to create the socorrat (crust that forms on the bottom).
Let rest 5 minutes before serving.
---
---