Hake n' Bake: Oven Roasted Hake with Lemon, Garlic and Capers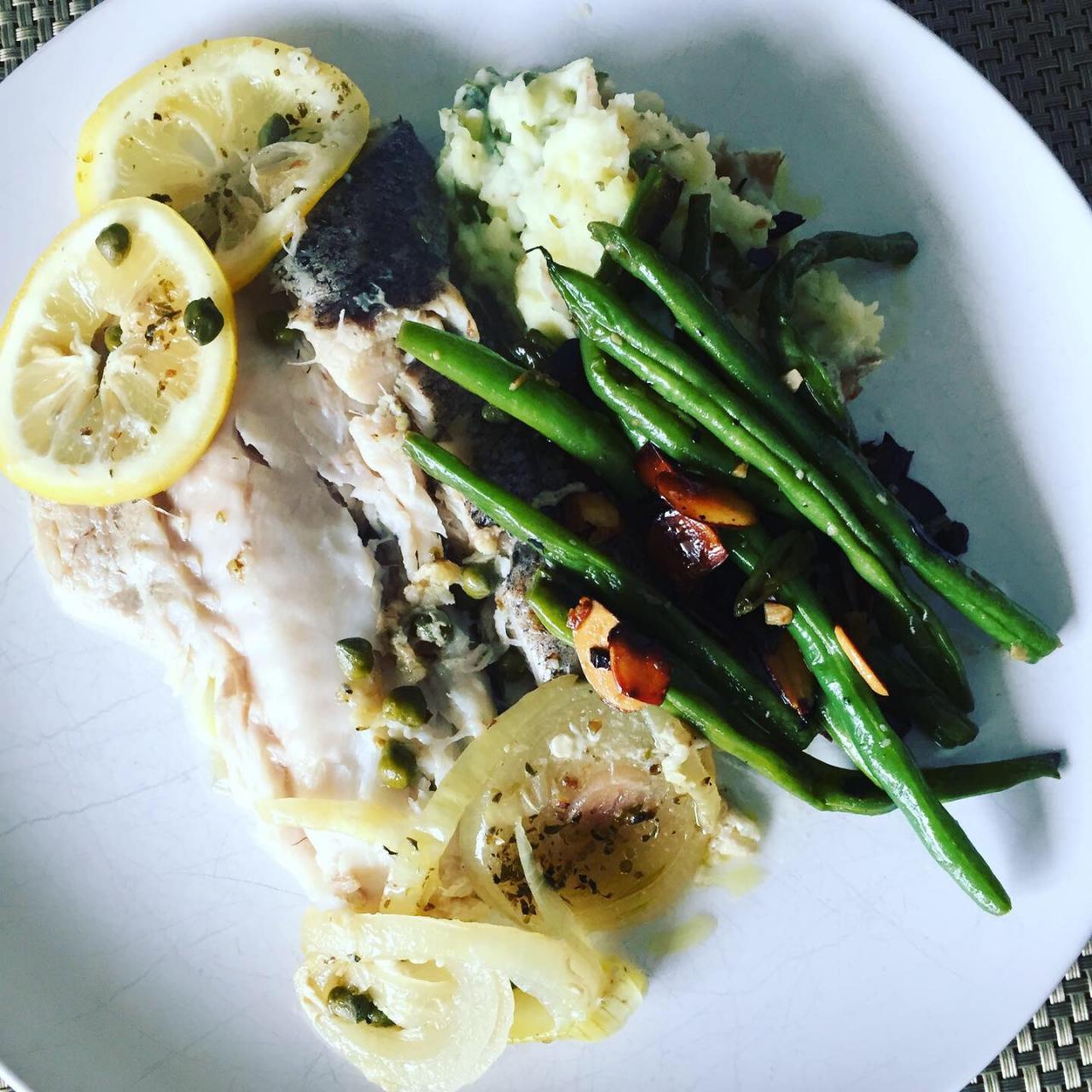 I totally messed up the first piece of Hake I defrosted from my Skipper Otto's haul. Let's just say, I thought it was fillets and it turned out to be a solid tale (and I don't have a filleting knife…or ANY filleting skills). I made a mess that ended in the compost pail. I hate wasting food and I probably should have put the works in a pot and made fish stock…but I did not. This time I was determined not to mess it up so I read up on Hake. I still don't have a filleting knife (or any skills in that regard), so I decided to look for whole baked fish recipes. They love Hake in Spain and Portugal so I based what I did on Hake with Tomato and Lemon in the Oven with a few ad libs…because that's just how we roll (and I didn't have any tomatoes).
The result was a moist and delicately flavoured fish that is a cross between Cod and Snapper. It holds a sauce well and is not too bony (yay!). Another great thing about Hake is that it's local and sustainably fished. I had some difficulty plating it but I put that down to my lack of experience cooking fish rather than anything to do with the product. In other words, purely user error. This fish is really, really good and I will definitely make it again.
Ingredients
0.570 kg Hake tale (so about 1 lb)
1 lemon sliced thin, plus juice of another half a lemon
2 Tbsp olive oil
4 cloves garlic, minced or pressed through a garlic press
1 tsp dried oregano
2 Tbsp capers, drained
sea salt and fresh ground pepper to taste
1 medium onion, peeled and sliced into rounds for the rack
Method
Rinse and dry the fish, and take off any extra fins (kitchen scissors help).
Slash both sides with a sharp knife (cut in two pieces if you don't have a roasting dish big enough).
Mix the olive oil, lemon juice, and garlic together.
Slice the onions and put them in the base of your roasting dish.
Coat the fish pieces with the oil, lemon, and garlic mixture.
Sprinkle both sides with salt, pepper, and oregano.
Top with capers and lemon slices.
Cover and put in the fridge to marinate for an hour.
Preheat oven to 350 F.
Bake covered, about 40 minutes (this may have been a little long but it was still very moist).
Serve with mashed sweet potatoes or rice and whatever veg you like. I did Garlicky Green Beans with Almonds from Minimalist Baker.
Serves 4 (or 2 if you really like fish).
---
---