Mediterranean Baked Halibut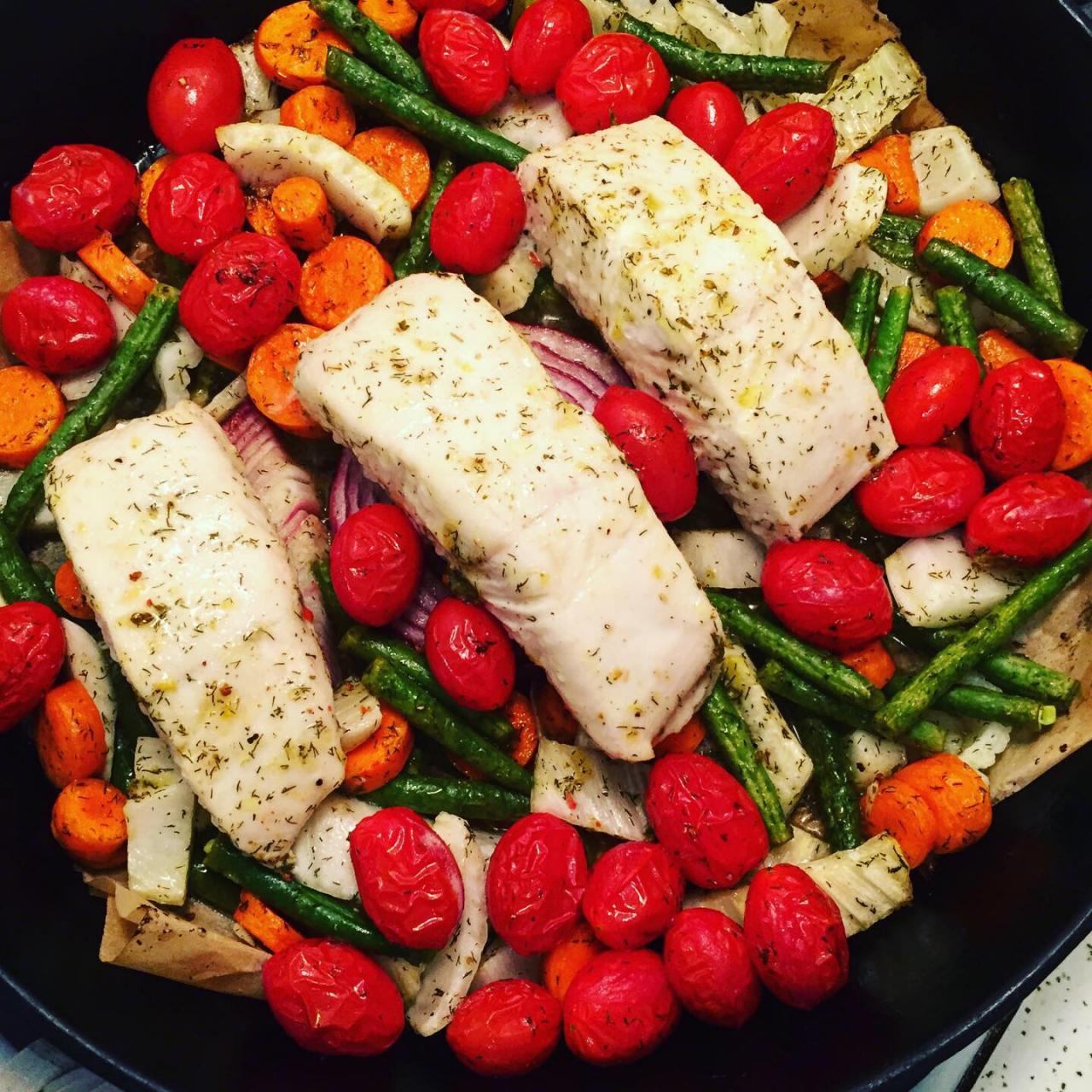 Base recipe from One Pan Mediterranean Baked Halibut from Suzy at the Mediterranean Dish (thank you Suzy this was delish). I changed up the veg a bit.
Ingredients
1 lb Halibut Fillet sliced in three, 2″ pieces
Marinade
Zest and juice of 1 lemon
1/2 cup olive oil
1-2 cloves garlic minced (leave it out if you don't like garlic)
2 tsp dried dill
1 tsp dried oregano
1/2 tsp ground corriander
sea salt and fresh ground pepper to taste.
Veg
Couple handfuls of fresh green beans, washed with ends trimmed
2 carrots cut in rounds
12 cherry tomatoes
1 half bulb of fennel, rough chopped
1/2 red onion sliced (to use as a rack for the fish)
Method
Preheat the oven to 425 degrees F.
Whisk the marinade ingredients together in a large bowl. Add the veg, except the onion, and toss to coat.
Line a baking sheet or big cast iron pan with baker's parchment.
Make a rack in the centre of your pan, using the onion slices.
Remove veg except with a slotted spoon and place them around the onions, spread in a single layer.
Dip the halibut strips into the remaining marinade to coat.
Put the halibut fillet on top of the onion rack and pour any remaining marinade on top.
Sprinkle with more sea salt and fresh ground pepper.
Bake for 15 minutes on the middle rack.
Move to the top  rack and broil for 2-3 minutes or so until the tomatoes start to pop.
Remove and let cool for a couple minute before plating.
Serve with rice or whatever starch you want.
---
---