Dry brined Spatchcocked and Roasted Turkey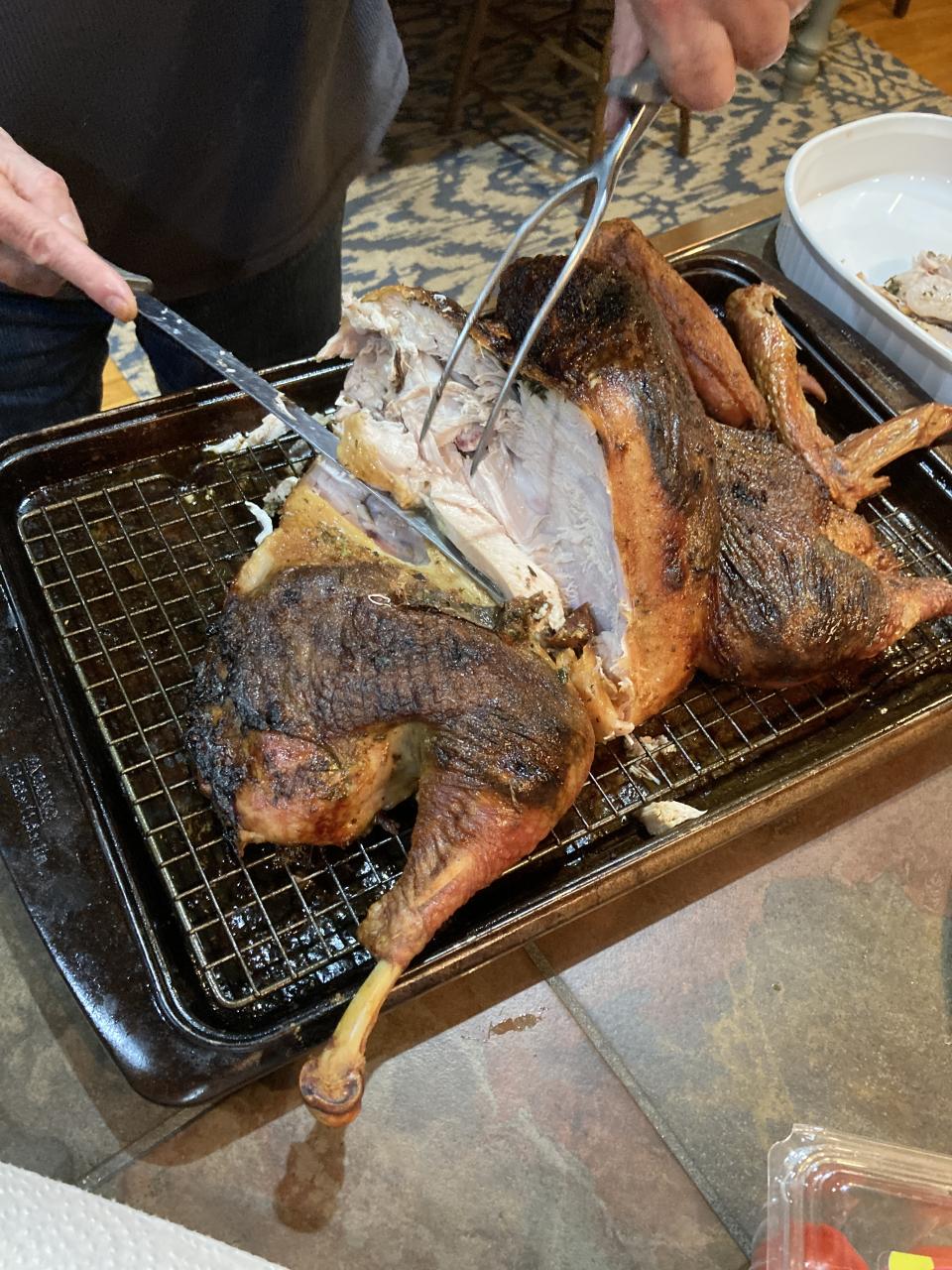 This is the dry brined (spatchcocked) turkey we made during the surreal and disasterous Christmas of 2021. It looks burnt, but trust me it was moist and delicious. And, it only took an hour and 45 minutes to cook at 12lb bird!
ALERT: This is not a "same day" recipe. You need 1-3 days depending on your ingredients and how long you want to brine the bird so read the order of operations and decide whether this recipe is for you. Personally, it's my favourite way to roast a turkey.
You need to start 24-72 hours ahead to dry brine. 24 hours is the minimum. Prepping to dry brine the bird takes about an hour and then you need to pop it in the fridge uncovered to let the brine do its thing.
Order of operations – Read this first!
Get a fresh 12-18 lbs turkey or make sure that your turkey has been thawed overnight in the fridge. Note: make sure your turkey is not kosher, saline injected or otherwise pre-salted. If it is, pick another recipe.
Spatchcock the Turkey and flatten it out on a tray, set aside while you prepare the turkey stock. Spatchcocking a turkey or chicken means you take the neck and back bone out with kitchen schears and reserve. Need instructions on how to spatchcock? Check out the video from Serious Eats, Knife Skills: How to Spatchcock a Turkey
Prep Turkey stock and get it to the point where you have reduced it to a simmer. Now move to brining the  bird.
Mix up dry brine ingredients.
Pat the turkey dry, loosen the skin over the breast and legs, and push the dry brine underneath, massage in.
Sprinkle turkey with the salt and baking powder mixture and put in on rimmed baking sheet. Pop it into the fridge uncovered and let it brine at least 24 hours (up to 72 is ok). Leaving it uncovered lets the salt do it's work on skin to produce a more crispy result.
Then you'll roast the bird for about 1 hour and 45 minutes or until a meat thermometer reads 160 F.
Dry Brine
6 cloves garlic, minced
2 Tbsp minced parsley (optional)
1 Tbsp minced fresh rosemary
1 1/2 Tbsp fresh thyme
3/4 tsp dried sage
1 1/4 Tbsp freshly ground black pepper
3 Tbsp Morton's Kosher Salt (add 1 1/2 tsp if you are using Diamond Crystal). Note: the type of salt matters. DO NOT use regular table salt.
1 1/2 Tbsp sugar
Zest of 2 lemons
Juice from 1 lemon
3 1/2 Tbsp of olive oil
For outside of the turkey:
6 Tbsp Morton's kosher salt (or 1/2 cup Diamond Crystal kosher salt)
2 Tbsp baking powder
Turkey stock
Turkey neck, back and giblets
1 onion cut in half and studded with 4 whole cloves
1 allspice ball
10 black pepper balls
1 Tbsp rock salt
1 large carrot cut in quarters and then lengthwise
2 sticks celery with leaves chopped in quarters
8 cardamon pods
6 clove garlic, smashed
2 bay leaves
10-12 cups water
Method – Stock
Put all the ingredients into a large pot and add the water – ingredients should be covered by a couple inches of water (at least). Bring to a boil, skimming off any foam that rises to the top. Reduce heat to a gentle simmer and let it simmer for 1 hour. Let cool, strain and store in the fridge. You'll use it later for making stuffing, the gravy and basting the bird (if needed).
Method – Roasting the Turkey
Position a rack in the bottom third of the oven and preheat oven to 425 F.
Dust off excess baking power and salt. Transfer bird to a clean rimmed backing sheet with a rake inserted.
Tuck wings under the back of the turkey.
Roast at 425 F until the skin starts to brown in spots, about 20 minutes.
Baste the turkey with pan juices (or warm turkey stock if you don't get enough juices). Rotate the roasting pan, tent the breast with foil to prevent it from overcooking.
Continue roasting and basting every 15 minutes until an instant-read thermometer inserted into the thickest part of a thigh without touching registered 160 F. This should take an additional 30 to 45 minutes, check the temperature and keep basting and rotating until you get to 160 F.
Remove turkey from oven and tent with foil. Let it rest for 20 minutes.
Carve and serve.
Gravy
Make a roux with 1/4 butter (or pan drippings if you have enough), and 3 Tbsp flour. Melt the butter and sprinkle in the flour stirring with the back of a spoon. Cook out the roux until nice and brown. Slowly add 2 cups of cold turkey stock to the roux, stirring constantly. Keep stirring until the gravy starts to thicken.
---
---