Roasted Yam Salad with Pomegranate and Feta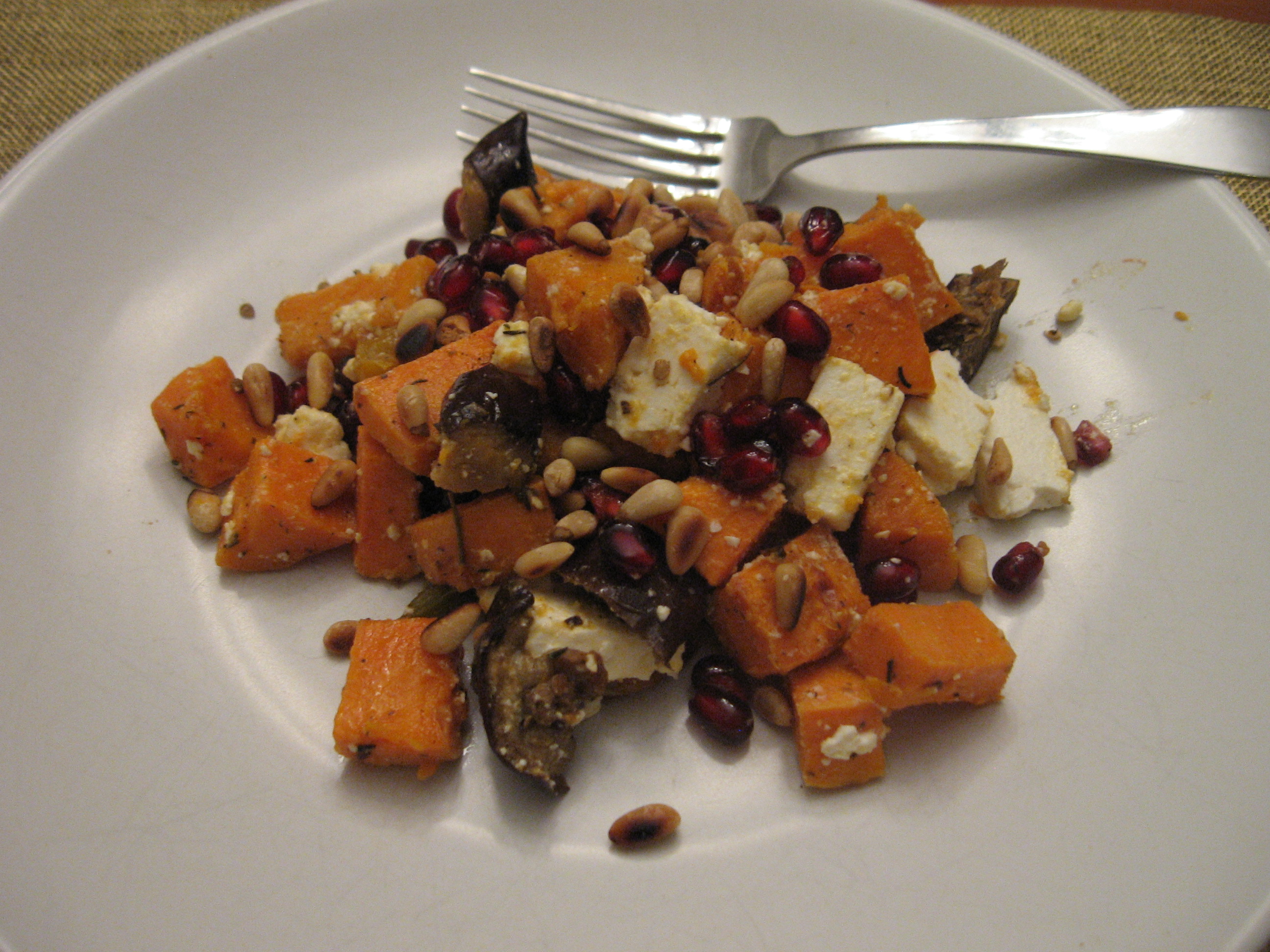 My friend and fellow dance mom Annabel makes an amazingly yummy Tuscan salad. But her recipe calls for grape tomatoes. Sadly, I didn't have any BUT I did have a pomegranate so I thought I'd see how that worked out. Turns out it works out very well. You could use sweet potatoes instead of yams but I like the deep orange colour and sweetness of the roasted yams (and yams are what I had).
Ingredients:
3 large yams washed, peeled and cut into smallish chunks (think 1 cm x 1 cm for faster cooking)
1-2 Tbsp of olive oil
sea salt + fresh ground black pepper to taste
1 tsp dried thyme
Juice and zest of one lemon (or lime)
1/2 c. toasted pine nuts
1/2 c. chopped or crumbled feta
1 pomegranate seeded
If you've got left over roasted veggies (I had roasted peppers and eggplant) then toss that in as well.
Preheat oven to 375 F.
Toss yams in oil in a big cast iron frying pan. (or use a baking sheet lined with parchment paper).
Grind salt and pepper over top and sprinkle with dried thyme. Pop in the oven for 35 minutes turning once after 15 minutes. Check to make sure yams are soft (not mushy). If they are still hard roast for another 5 or 10 minutes. Remove from oven and let them cool to room temperature.
While the yams are roasting zest and juice lemon and toast pine nuts in a dry pan being careful not to burn them.
Seed pomegranate. It's less messy to do this under water. For a good video on how to seed a pomegranate check this video out. I don't cut it in half. Instead I cut through the skin just a cm below the top and peel the top off. Then I slice through the skin along the membranes and break it into sections. Then seed it under water. It's pretty easy once you get the hang of it. Drain off the water and any of the white pithy membrane.
Take yams out of oven and let cool to room temperature. If you used a baking sheet put the yams in big non-metallic bowl. Me, I just kept everything in my frying pan because I'm lazy and hate doing extra dishes…although I will move the works into a storage container later.
Pour on lemon juice and sprinkle on zest and gently toss. Add remaining ingredients except pine nuts and gently toss again.
Sprinkle pine nuts over top before serving so they don't get mushy.
The tang from the lemon and the sweet juicy "pop" of the pomegranate seeds make a nice foil for the roasted yam and veggies. Delicious, low fat and oh so good for you.
Serves 4 as a meal or 6-8 as a side.
---
---