Rhubarb Buttermilk Muffins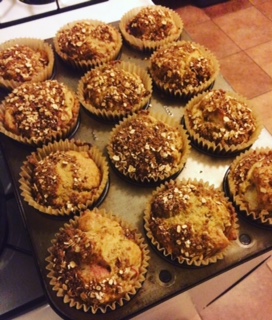 Last night I had a craving for muffins. I also had frozen rhubarb in the freezer left over from one of my organics bins in the summer. I also had a carton of buttermilk that needed using. So, freezer foraging, using stuff up and satisfying a craving turned into these rhubarb buttermilk muffins. I got the base recipe from Mel's Kitchen Cafe (thanks Mel!) but I didn't have any coconut oil or vegetable oil so I used…olive oil. Sounds weird, I know, but it worked just fine. I also used only brown sugar and oats as the topping, again, worked just fine.
Ingredients
2.5 C flour
1 tsp baking soda
1 tsp baking powder
1/2 tsp salt
1 1/2 C frozen rhubarb, chopped
1.25  C brown sugar
1/2 C olive oil
1 large egg
1 tsp vanilla
1 C buttermilk
Streusel:
1/4 C lightly packed brown sugar
1/4 C quick cook oats
1/4 tsp cinnamon
Directions
Preheat the oven to 350 degrees F and line two 12-cup muffin tins with muffin cups.
In a large mixing bowl, whisk together the flour, baking soda, baking powder, and salt. Toss in the chopped rhubarb and stir to coat.
In a medium bowl, whisk together the brown sugar, oil, egg, vanilla and buttermilk.
Pour wet ingredients into dry and stir just until combined.
Divide the batter evenly among the muffin cups.
Mix the streusel ingredients and sprinkle evenly on top of each muffin.
Bake for 25-30 minutes until the tops of the muffins spring back or a knife inserted in the center comes out clean.
Let the muffins cool for five or so minutes before removing them from the pan to cool on a wire rack.
---
---