Christmas Eve Tortière (Chatelaine Plus)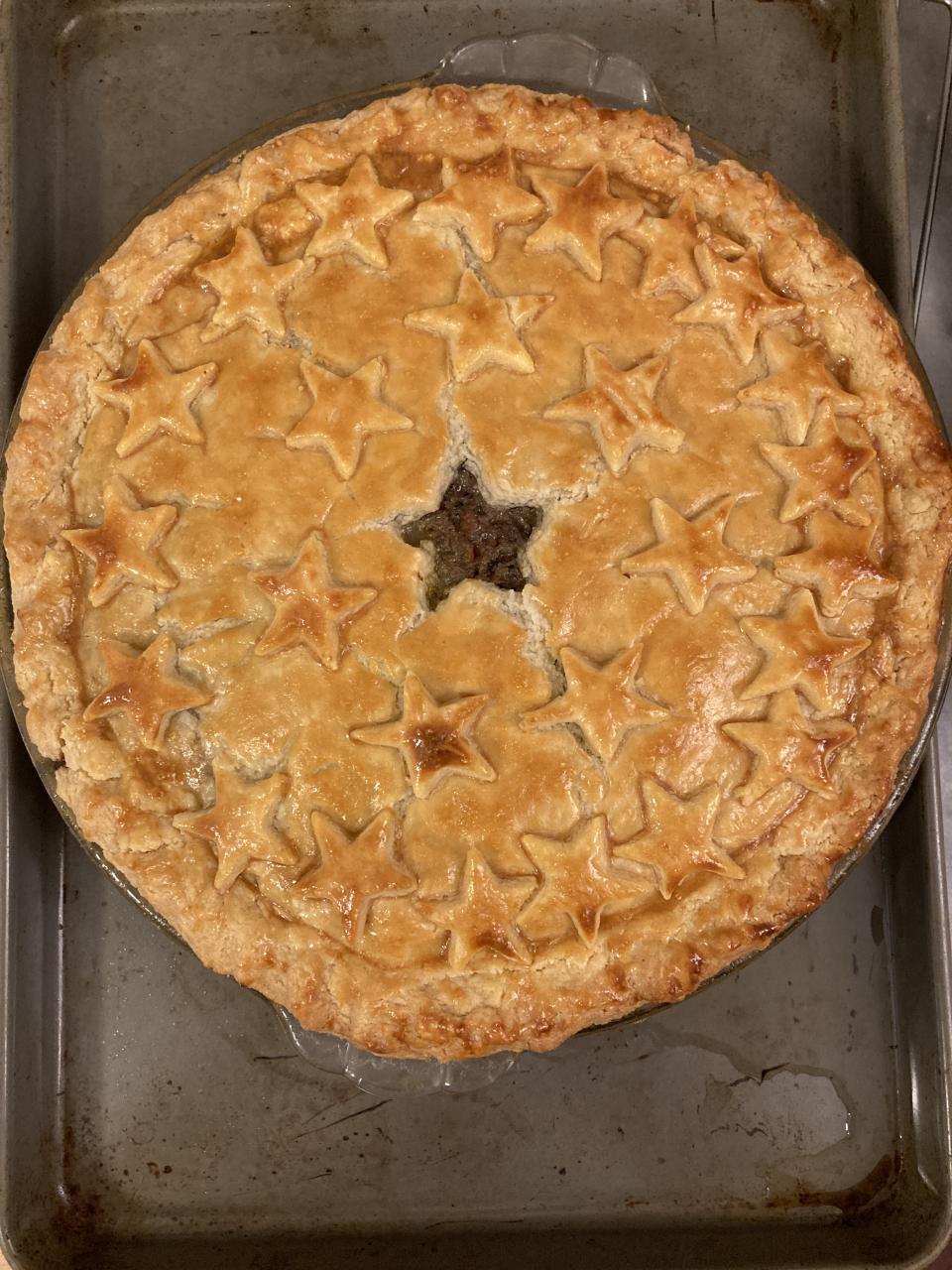 This recipe is a rif on Chatelaine's Holiday Tortière recipe. I couldn't leave out the sage, cinnamon, and allspice (my Mom would have disowned me).
Ingredients
2 1/2 cups all-purpose flour
1/2 tsp salt
3/4 cup cold lard , cubed
1/4 cup cold unsalted butter , cubed
1/4 cup ice water
Filling
2 tbsp olive oil
4 slices double-smoked bacon , chopped
6 garlic cloves, minced
1 large onion, finely chopped (about 1 1/2 cups)
2 tsp dried leaves of summer savoury
1 tsp salt
1 tsp celery salt (you can make celery salt by grinding 1 tsp of celery seed with 1/2 salt)
3/4 tsp pepper
dash white pepper
1/2 tsp ground cloves
1/2 tsp ground nutmeg
1/2 tsp cinnamon
1/2 tsp ground sage
1/4 tsp allspice
454 g medium ground beef (1 lb)
225 g medium ground pork (1/2 lb)
1/2 cup peeled, grated russet potato
1/2 cup no-salt beef broth
1 cup chopped parsley
2 tbsp maple syrup
1 egg yolk , mixed with 1 tsp water, for egg wash
Instructions
Pastry: Whirl flour and salt in a food processor until combined. Add lard and pulse 12 times until fine. Add butter and, while pulsing 7 or 8 times, quickly add ice water through the feed tube until dough just comes together. Divide dough in half and wrap in plastic wrap. Flatten into discs and refrigerate until firm, at least 1 hr. Note, I found this dough super finicky so make whatever pastry you like and find easy.
Meat filling: Heat oil in a large pot over medium-high. Add bacon, garlic, onion and spices and cook for 5 min. Add beef, pork, potato and broth. Use a potato masher to mash meat until crumbly. Reduce heat to medium-low and cook until liquid is almost absorbed, about 15 min. Add parsley and maple syrup and cook until most of the liquid is evaporated, about 5 min. Cool filling completely. You can make the filling the day before and pop it in the fridge.
To Bake:  Place rack in bottom of oven, then preheat to 400F.
Roll out 1 dough on a lightly floured surface to 1/4-in. thickness. Transfer to a 9-in. glass pie plate, letting excess hang over edge. Refrigerate for 20 min. Roll remaining dough to ¼-in. thickness, then refrigerate.
ADD: meat filling to pie and smooth top. Place dough over filling. Trim both doughs to 1/2 in. beyond edge of pie plate. Fold top edge underneath and crimp. Cut vent in the middle using a cookie cutter or paring knife. If you want, roll out dough scraps and cut out additional shapes (I chose stars). Brush with egg wash, stick on your additional dough shapes is using and brush them with egg wash as well.
Bake on a rimmed baking sheet (you need a rimmed pan – just trust me) on bottom rack of oven until pastry is golden brown and filling is hot, check at 50 min. You may need to cook it longer to make sure the bottom crust is browned (that's why a glass pie plate is handy. Cover with foil during the last 10 to 15 min, if browning too quickly. Let stand for 20 min before serving.
Service 8.
---
---