Souper Sunday: Lentil, cabbage and bacon soup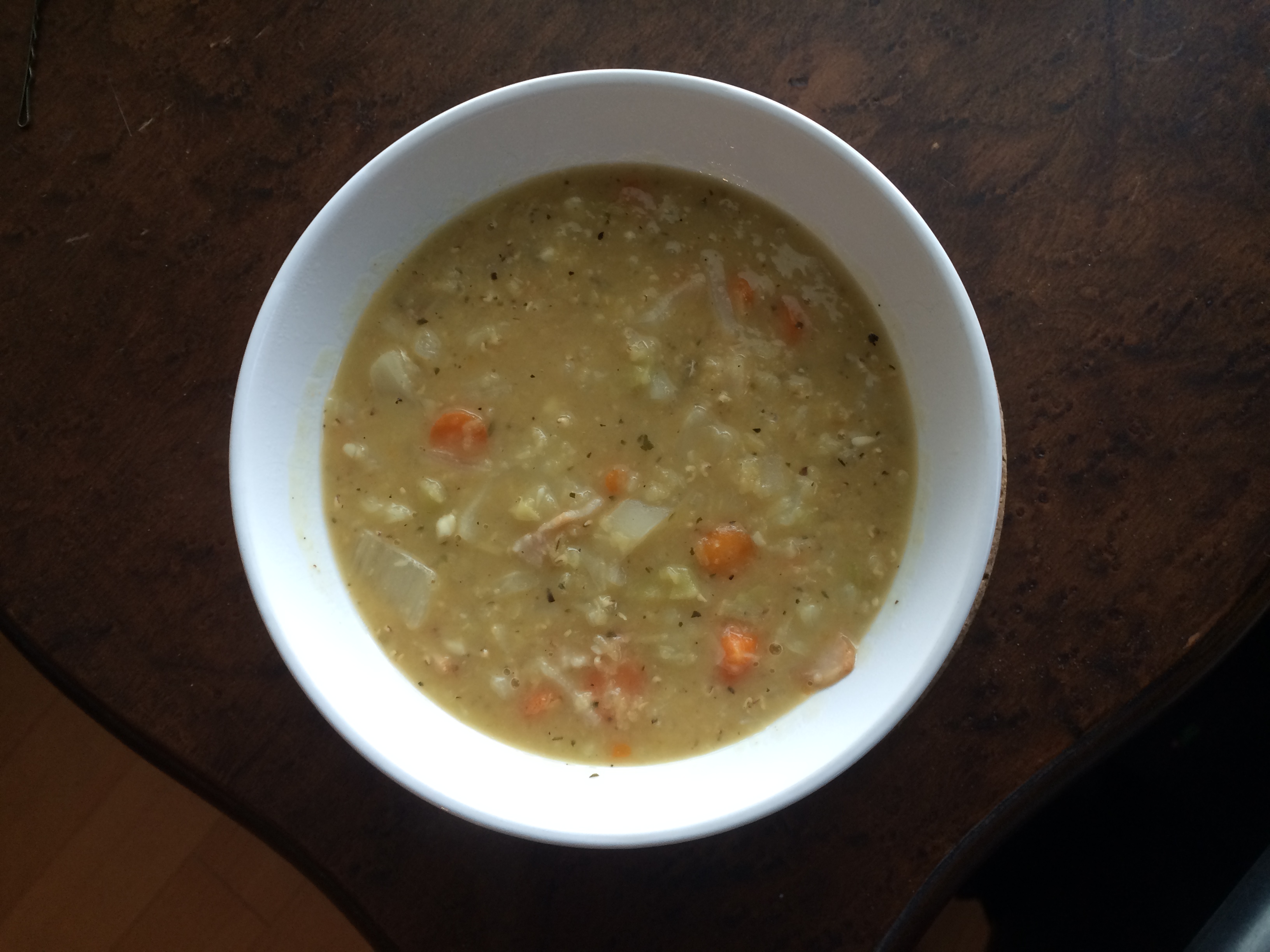 This is a modified version of Mediterrasian's Provencal lentil, bacon soup recipe. You can see the original here:  http://www.mediterrasian.com/delicious_recipes_lentil_bacon_soup.htm.
My version uses 3 slices of bacon (I like bacon), 5 cloves of garlic (I like garlic) and 1 tsp of French Herbs and a bay leaf. I didn't bother shredding the cabbage I just sliced it reasonably fine and I didn't peel the potato either (such a rebel I know).
This tastes like a lighter version of French Canadian Pea Soup and with the added benefit of cabbage which is a) cheap and b) souper (ahaha) good for you.
Ingredients
2 Tbsp olive oil
3 slices bacon chopped2 stalks celery, rough chopped
2 small onions, diced
1 cup sliced carrots
5 garlic cloves, chopped fine
1 tsp French Herbs (or thyme)
1 bay leaf
1 potato, skin on, diced
2 cups medium sliced cabbage (about half a regular ol' green cabbage)
1 cup red lentils
5 cups stock (whatever kind you have on hand)
1 tsp salt
Fresh ground pepper to taste
Directions
Heat soup pot over medium heat, add oil and bring to heat. Add bacon, fry 2 minutes. Add onion, celery and carrot and saute about 5 minutes. Add garlic, herbs and potato and stir to combine. Add cabbage, lentils, stock and seasonings. Bring to a boil. Cover with lid and reduce heat to low. Simmer for 30 minutes. Boom you're done.
---
---