Freezer Forage Beef Stew with Bacon (mmmm Bacon) in the Slow Cooker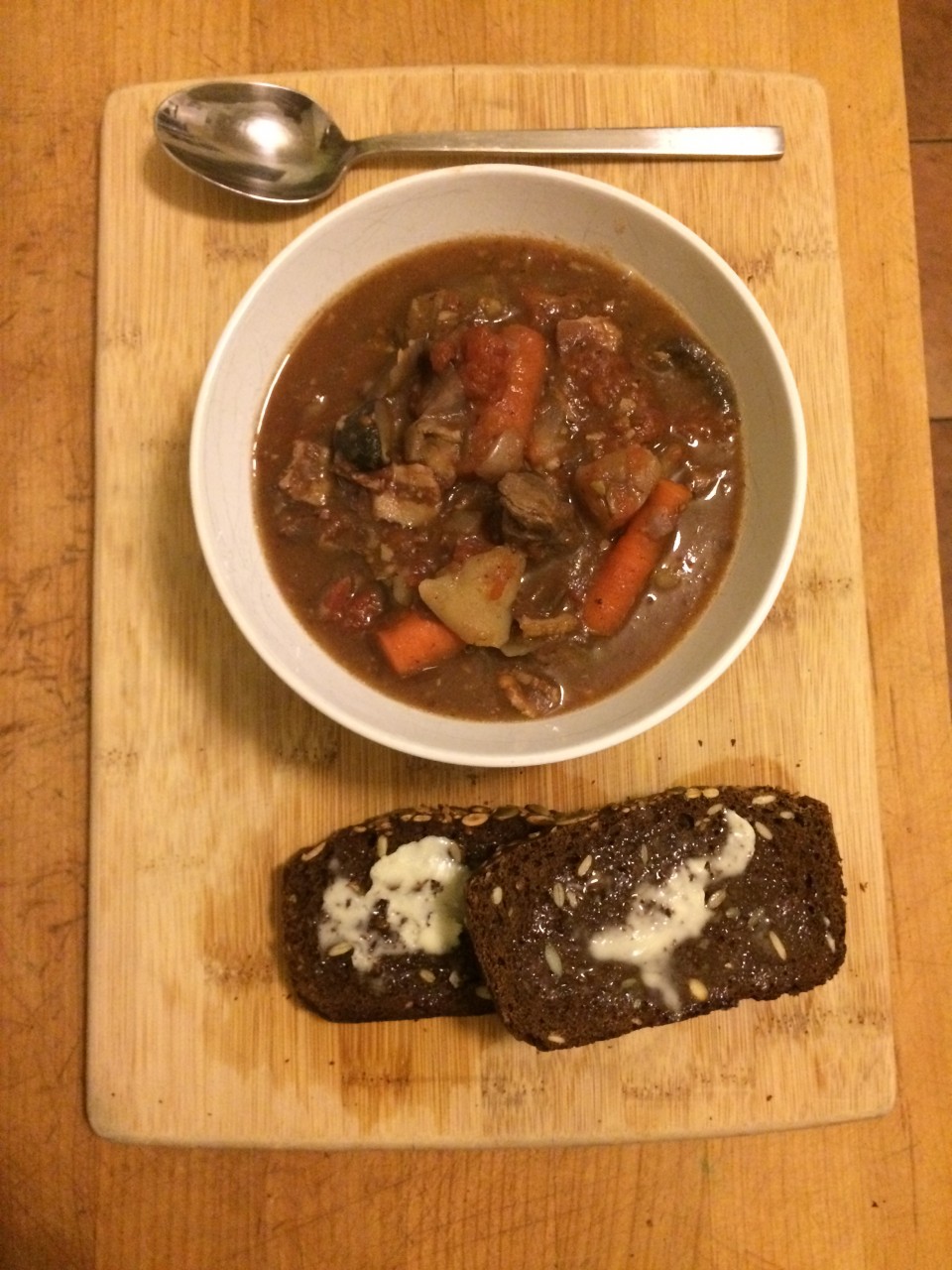 It got unseasonably cold in Vancouver this weekend. As luck would have it, I had some beef and bacon in the freezer that need to be used, so Beef Stew with Bacon was born. What I love about soups and stews is that it's pretty hard to mess them up if they've got bacon and red wine in them. I just use whatever I happen to have on hand that needs to be used.
Ingredients
8 small potatoes, quartered
8 carrots, cut in one inch lengths
8-12 mushrooms, quartered
6 rashers double smoked bacon, rough chopped
1 lb beef (use a cut that likes to be braised), cut in to 1/2″ cubes
2 Tbsp olive oil
1 red onion, diced
2 small yellow onions, diced
6 cloves garlic, minced
2 Tbsp flour
1 C red wine
2 bay leaves
1 tsp thyme or two springs fresh thyme
1.5 C beef or vegetable stock (I used McCormick's Vegetable stock cubes)
1 28 oz tin of chopped tomatoes (you could just use 19 oz for a thicker stew)
salt and pepper
Directions
Chop the potatoes, carrots, and mushrooms, and put them in the slow cooker.
Fry off the bacon until most of the fat is rendered.
Put bacon in the slow cooker and pour off the excess fat.
In the same pan, add the olive oil and turn the heat to medium-high.
Brown the beef and place in the slow cooker.
In the same pan brown the onions (3-5 minutes).
Add the garlic and saute for another minute.
Sprinkle on the flour and stir.
Stir in the red wine and let it simmer for a minute, pour the lot into the slow cooker.
Add the bay leaves, stock, tomatoes and the thyme.
Cook on high for 6-8 hours or low for 8-10 hours.
Serve with Seeded Rye Bread (or whatever bread you like).
Serves 4-6
---
---