Tomato Tart with Parmesan Crust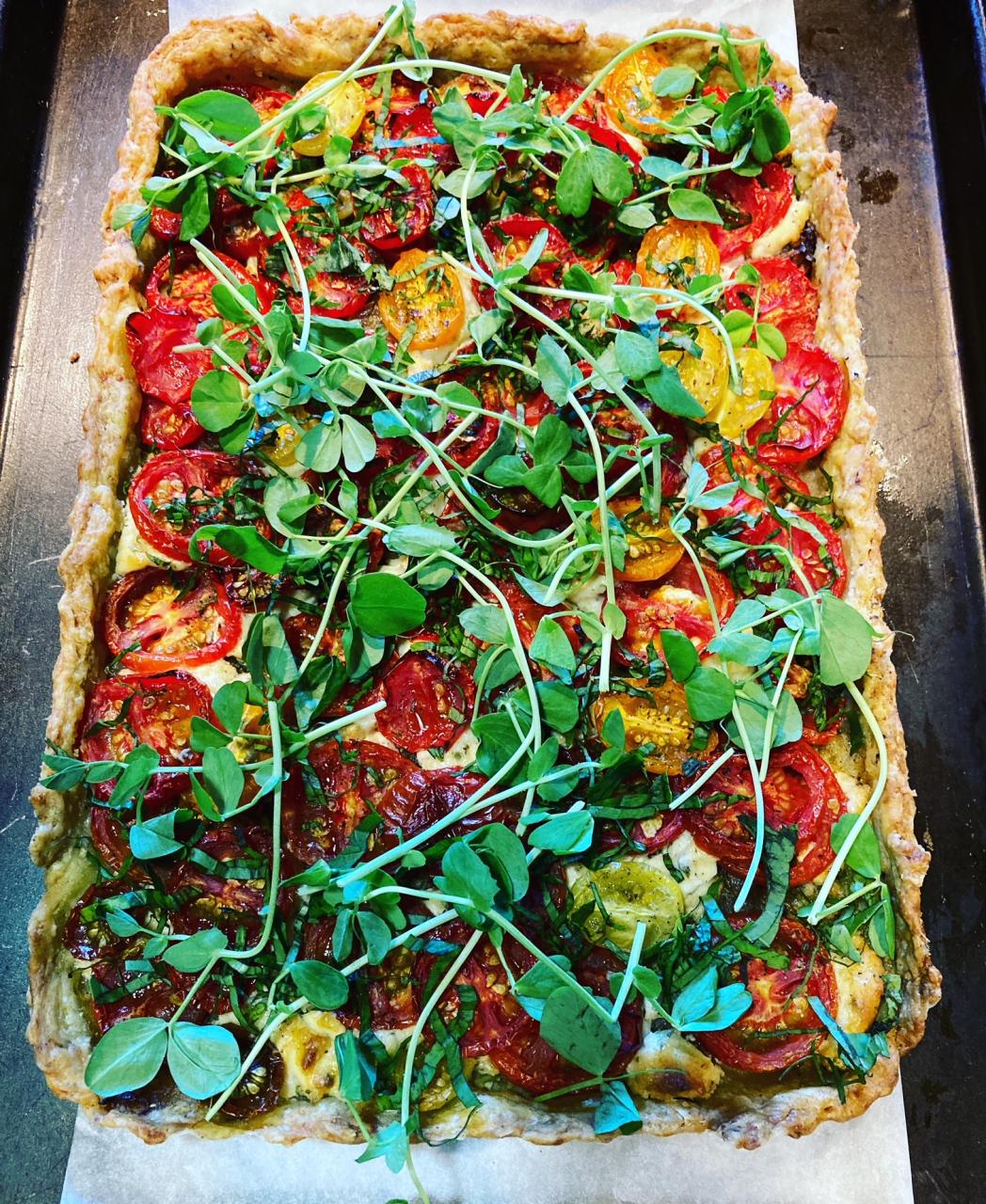 This is a recipe adapted from Canadian Gardening, Summer 2015. It's a lovely accompaniment to any summer dinner party.
Crust
1 and 1/4 c. flour
1/2 c freshly grated parmesan (or romano)
1/4 tsp fresh ground black pepper
1/2 c. chilled butter cut into pieces
1/3 c. cold water
Filling
1 Vidalia or sweet onion halved and cut into thin slices (any onion will do really)
1/4 c. pesto
2 sprigs fresh thyme
4 oz goat cheese or Boursin garlic with fine herbs
3 to 4 ripe heirloom tomatoes or mix of different kinds of tomatoes slicked 1/4″ thick
Coarse sea salt
Pea shoots for garnish
Method
In a medium bowl (or food processor) combine the flour, Parmesan and pepper.
Add the butter and blend with a pastry blender or pulse in the processor until the mixture resembles course meal.
Add the cold water an stir by hand just until the dough comes together.
Shape the dough into a disk and lest rest on the counter top for 20 minutes.
On a lightly floured surface roll out crust until just larger than 9″ or 10″ tart tin with a removable bottom. Fit the patery into the tin and trim the edges until flush with the top edge of the tin.
Chill the crust while you preheat oven to 375 F
In medium frying pan, sauté the onion with a drizzle of oil over med-high heat for 6-8 minutes until golden. Pull the leaves off spring of thyme and add them at the end.
Spread pesto over the bottom of the crust, top with caramelized onion, crumble goat cheese over top.
Layer with the tomatoes, overlapping the slices. Drizzle with olive oil and sprinkle with sea salt.
Bake 30-40 minutes, until the crust is golden and the tomatoes are tender.
Cool to room temperature, sprinkle with pea shoots, slice and serve.
---
---