Roasted Tomato Soup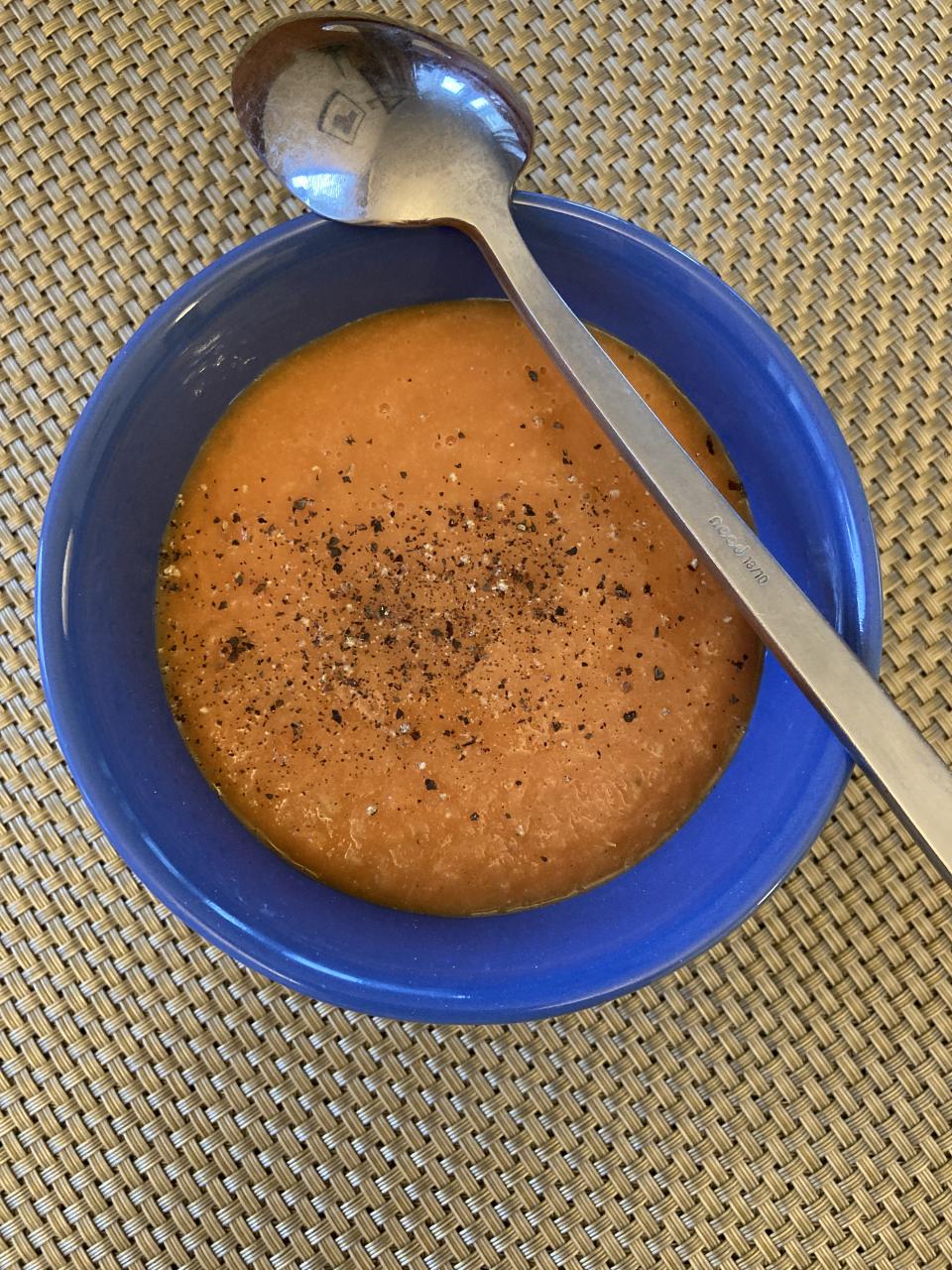 One of my resolutions for 2022 is to do what I can to combat food waste. That means when I go to the local green grocer I look for the veg that is on special and needs to be used immediately. Today Kin's Apple Farm market had lovely tomatoes on special so I bought a couple of pints. I'm a BIG fan of Marcella Hazan's super simple tomato sauce. While it's very easy and very delicious, it also has 5 Tbps of butter in and I'm trying to keep the fat down. So, I opted to try roasting the tomatoes to see what would happen. This soup is my attempt on Feasting At Home's Simple Oven-Roasted Tomato Sauce. I blitzed the roasted tomatoes, veg and all the juices in a nutribullet and ended up with a happy accident, a really tasty tomato soup.
Ingredients
2 pints tomatoes (any kind will do)
2 Tbsp olive oil
7 garlic cloves, smashed and peeled
1 shallot, peeled and sliced
Sea salt to taste
fresh black pepper to taste
1/4 tsp sugar
Method
Pre-heat oven to 400 F
Drizzle a large, rimmed baking sheet with olive oil. Sprinkle with garlic and shallot.
Place the sliced tomatoes cut-side down on the sheet pan and roast 40 minutes, or until skins have lifted off the tomatoes.
Remove tray from oven and let cool, pull off the skins.
Pour everything (including roasting juices) into a KitchenAid with the paddle attachment and stir on slow to mash and incorporate the ingredients (or mash with a potato masher).
Season with sea salt, pepper and sugar.
Either reheat in a pot, put in the fridge, or freeze.
If freezing let sauce come to room temperature before adding to mason jars with 2″ headroom at the top of the jar, sauce will expand as it freezes.
If reheating from frozen, thaw in the fridge overnight.
---
---