Beef Barbacoa in the Slow Cooker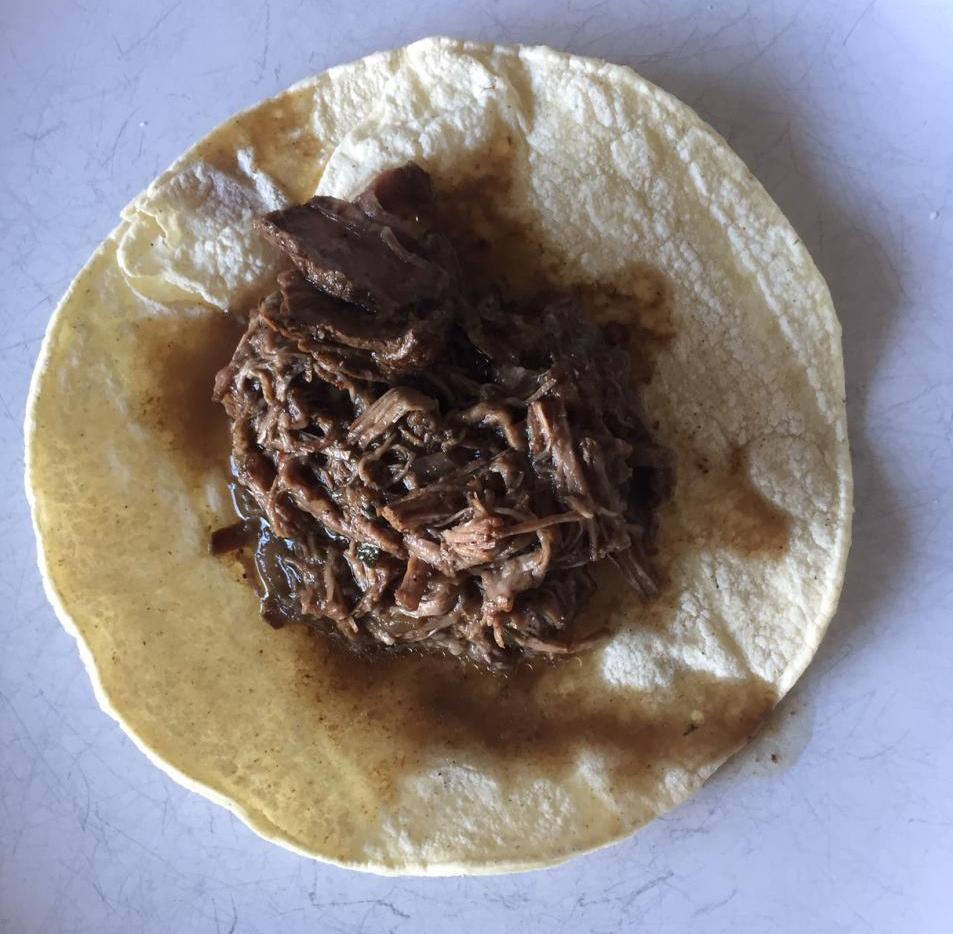 I will admit to binge watching the occasional Netflix food series (Oh hello Chef's Table). My latest binge involved David Chang's Ugly Delicious series. The taco episode included Christina Martinez and lamb Barbacoa. I decided to give Barbacoa a try, but I didn't feel like digging a big pit and didn't want to make lamb (this time)so I started looking around for beef Barbacoa slow cooker recipes and found this Barbacoa Beef Recipe (Slow Cooker Edition) from Cooking Classy (thank you Jaclyn).
Ingredients
3 lbs beef chuck (blade roast in Canada, apparently)
Salt and pepper to season
1 Tbsp olive oil
Barbacoa chili sauce
3-4 chipotle peppers in adobe sauce
1/4 cup beef or vegetable stock (I used veg)
6 cloves garlic
1 Tbsp oregano (I only had Greek)
1 Tbsp and 2 tsp ground cumin
1/4 tsp cloves
1 onion halved and slivered
1/2 cup water
3 Bay leaves
1 cup beef or vegetable stock
1/4 fresh lime juice (juice of 2-3 limes)
Method
If the beef is not cut in chunks, do that first (big is fine). Dry the pieces well (helps with getting a nice sear instead of a steam).
Generously season the beef with salt and pepper.
Heat the oil in a large frying pan and sear the beef on all sides (do it in batches, i.e., don't crowd the pan).
Put the beef in the slow cooker. Tuck the Bay leaves in among the meat chunks.
Add the slivered onions to the pan and saute 2-3 minutes.
Add the half a cup of water to deglaze the pan and get the drippings up.
Pour the onions and pan drippings over the beef in the slow cooker.
Make the Barbacoa chili sauce by whizzing the chipotle chilis, 1/4 of the beef broth, garlic, oregano, cumin and cloves in a food processor, until smooth (you may have to scrape down the sides a couple times). This will give you about half a cup.
If you like spicy, mix the Barbacoa chili sauce with the remaining beef (or veg) stock and pour it over the beef. If you want less heat, just use 2-3 Tbsps (that's what I did and it was great and still packed a little kick).
Put the lid on and the slow cooker and cook on low for 8-10 hours.
Remove beef from slow cooker (leave broth in) and shred. Stir the lime juice into broth then return beef to slow cooker and cook on low for another 20 – 30 minutes.
Remove the beef from the liquid with tongs and serve with tortillas and whatever toppings you like. I just put the beef in a bowl and let people build their own.
Makes enough to serve 6-8 people.
---
---