Beef Bourguignon in the Slow Cooker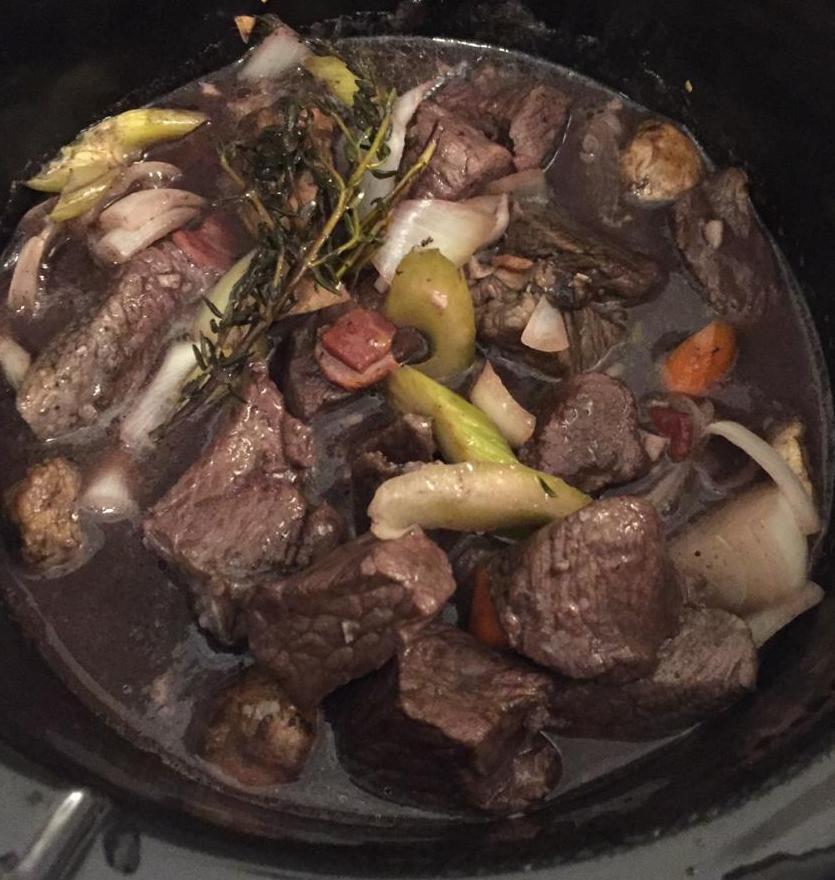 This Beef Bourguignon is a mishmash of recipes I looked at on the web including great options from Dinnerthendessert, Therecipecritic, and Sommelierschoiceawards (because I was using a Cab Sav). It's a cold and rainy New Year's Eve and I thought having something simmering in the slow cooker was a good call, plus I had veggies and half a bottle of wine that needed to be used up. I hate wasting food (and wine) and "stew" is always an option to create something hearty and flavourful. I also have a small kitchen and hate washing dishes, so I skipped marinating and making a mess with flouring the beef before browning it.
Ingredients
2 lbs stewing beef, cut in 1-inch chunks
Salt and pepper, to flavour the beef
5-6 rashers of bacon, chopped
3 carrots, cut in chunks
2 stalks celery, cut in chunks
1 yellow onion, cut in chunks
10-12 mushrooms, halved
2 cups red wine, simmered to reduce by 1/3 – also cooks off the booze
2 cups chicken stock
4 cloves garlic, minced
1 bay leaf
1 health bunch of fresh thyme
1 Tbsp flour to 3 Tbsp of cool water to a small jar and shake into a slurry.
Method
Turn slow cooker to high with the lid on. This keeps everything from getting cold.
Start simmering the wine to reduce by 1/3.
While the wine is simmering, prep the veg and add to the slow cooker (lid on).
Add the bay leaf, thyme and garlic. Let that all warm up while you prepare the meats.
Salt and pepper the beef and set to one side.
In a large frying pan fry up the bacon over medium heat until it renders it's fat and browns (don't over brown).
Remove the bacon with a slotted spoon and put into the slow cooker.
Brown the beef on all sides, making sure you get a bit of caramelization by not crowding the pan (you may need to do this in two batches). You don't have to do this but the flavour is better.
Add the browned beef to the slow cooker.
Deglaze the frying pan with the wine.
Add the chicken stock.
Bring the liquid to a boil and slowly add the flour and water slurry using a whisk to prevent it from getting lumpy. Another way to achieve thickening is to coat the beef with a couple Tbsps of flour before browning, but I didn't feel like dirtying more dishes than I had to.
Pour the liquid into the slow cooker.
Give the works a good stir, slap the lid back on, set it to low, and go do something fun for 6-8 hours.
Serve with mashed potatoes and the green veg of your choice.
---
---