Turkey Bone Broth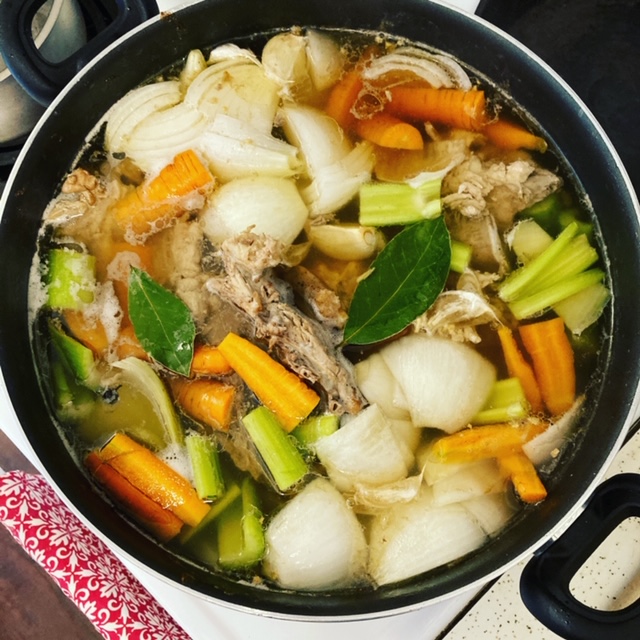 I ordered some organic Turkey bones from Pasture to Plate and got a massive turkey carcass and two legs. I forgot about the legs but they wouldn't have fit in the pot anyway! This recipe uses the Turkey Bone Broth recipe from Epicurious but I changed up the seasonings. I was lucky enough to get a packet of fresh bay leaves from Bon and Lee Roberts (@bonrobertsart and @leerobertsart) so in they went.
Note: If you live in Vancouver and haven't checked out Pasture to Plate I encourage you to go take a look (and stop by the  shop on Commercial Drive). The quality is exceptional.
Ingredients
1 turkey carcass (about 2 lbs of bones)
20 cups water (to start, you'll end up adding more as you cook the broth)
2 yellow onions, rough chopped
4 carrots, rough chopped (yes I know bone broth aficionados are shaking their heads – don't care, I like carrots)
2 stalks celery, rough chopped
Tbsp kosher salt
10 pepper balls
4 fresh bay leaves
2 allspice balls
1 Tbsp dried thyme
1 Tbsp dried rosemary
2 Tbsp apple cider vinegar
Method
Preheat your oven to 375°F.
Spread the carcass and any other pieces out in an even layer in a baking dish or oven proof frying pan.
Give everything a good grind of salt and some pepper and roast the bones for 45 minutes or until golden.
Put the bones in a large stockpot.
Add a couple cups of water to the roasting pan and "deglaze the pan" – you want all the stuff in the pan for your broth.
Add the pan liquid to your stock pot and the rest of the water to making sure the bones are covered.
Bring to a boil over medium-high heat, then reduce the heat to medium.
Start skimming off the scum that rises to the top and throw it away. This will take about 1 hour.
Add vinegar, peppercorns, allspice balls, bay leaves, thyme, and rosemary.
Continue to simmer for 2 hours, adding water as necessary to keep the bones covered.
Add vegetables and continue simmering for another 5 hours. Again, keep adding water  a cup at a time to keep the bones covered.
Turn off the heat, pour through a collander to remove the bones and veg and then strain a second time through cheese cloth in a fine-mesh strainer (it just makes a nicer broth…and allows it to cool down).
Pour into containers and cool further in an ice bath (or not…me I just let it cool in the fridge with the lids off for about an hour.
It will keep in the fridge for a week, or you can put it in the freezer and use it later.
It's delish!
---
---