Dill Pickle Rye Bread à la Paul Pettersen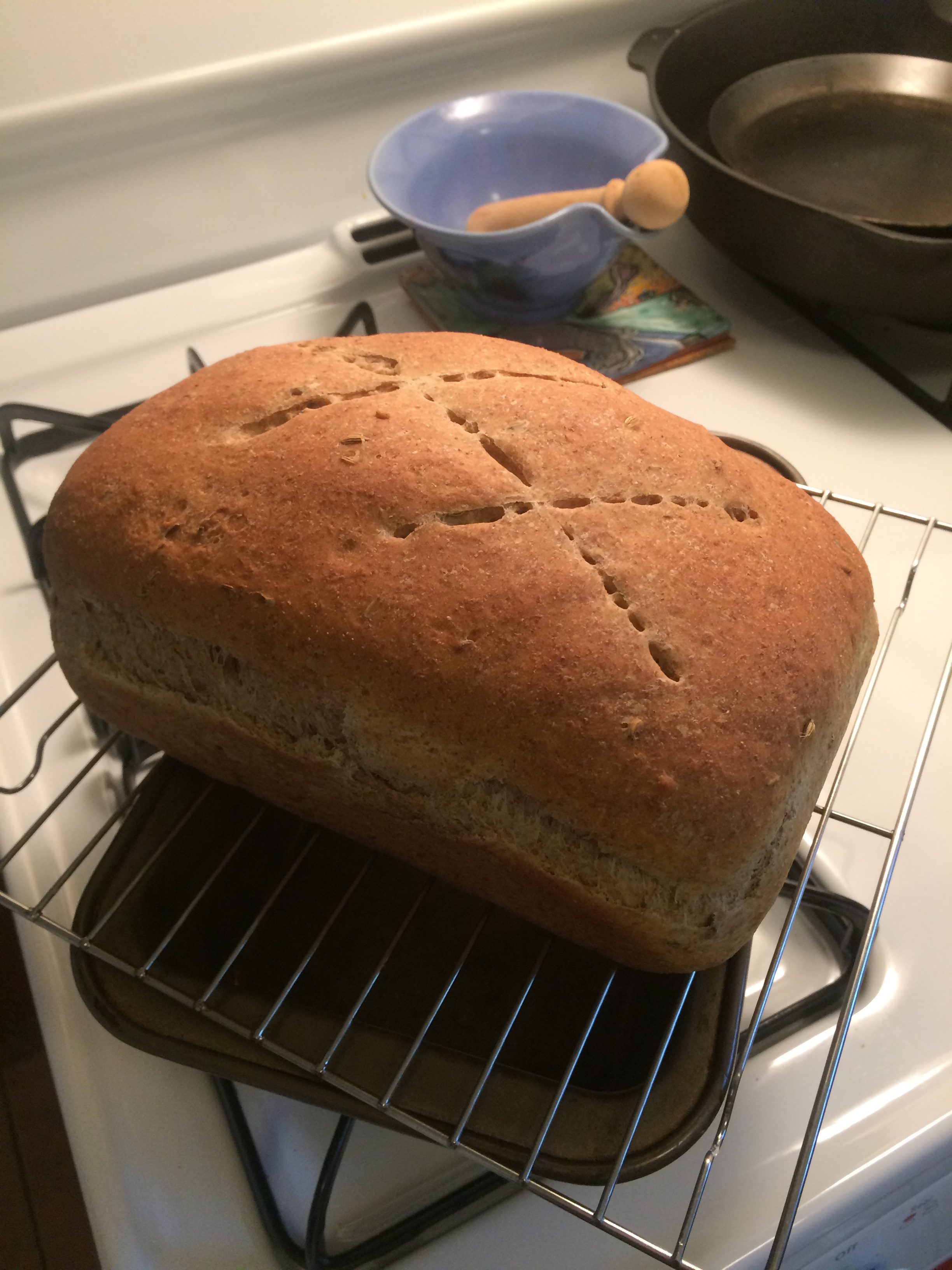 I got this recipe courtesy of Paul Pettersen, a member of The Cooks Community Forum on Facebook, and a fan of Chicago's ethnic bakeries. You can't beat this group for inspiration, and camaraderie. I thank you and my stomach thanks you. I used Bob's Read Mill organic, stone ground dark rye flour and skipped the dill seeds (because I forgot to buy them, d'oh). I also changed the order of ingredients so that the yeast got added last because I was using bread machine yeast.
It's too bad you can't upload smell on this thing because it is really fantastic.
Here is Paul's recipe (the modifications for ingredients I had and wanted to use up are in brackets)
Ingredients
2/3 cup to 7/8 cup lukewarm water
1/4 cup vegetable oil (I used Grape seed oil)
3/4 cup room-temperature dill pickle juice
1 1/2 teaspoons salt (I used sea salt)
1 tablespoon sugar (I used golden corn syrup)
1 1/4 teaspoons caraway seeds (I used 1 1/2)
1 1/4 teaspoons dill seeds (I used 1 1/2 fennel seeds, they needed using)
2 1/2 cups bread flour
1 1/3 cups stone ground dark rye flour
1 tablespoon instant yeast (I used Bread Machine yeast, it's what I had)
Method
Mix all together in a large mixing bowl into a sticky mess, more or less water to hold it together.
Let rest about 20 minutes.
Knead with a standing mixer (I used my KitchenAid) on medium low for about 8 minutes, adding more flour as needed. I ended up adding 3/4 C more rye flour in total, in 2 Tbsp increments. My dough was still a bit sticky after KitchenAiding it (what? it's a verb isn't it?) so I kneaded in another 1/4 C flour by hand in the KitchenAid bowl until it was smooth but not too sticky. Then I greased the sides of the mixing bowl with a bit of butter.
Cover the bowl with a clean tea towel and let rise about 1 ½ hours until doubled.
Rework the dough and shape it into a loaf and pop it into a lightly buttered bread pan. I didn't need any extra flour for this.
Cover again and let rise until double, about an inch above the pan. Took just under 1 hour.
Bake in a preheated 350 degree oven about 30 minutes until golden.
Tent the loaf with foil and bake another 20 minutes.
Let cool 10 minutes, remove from pan and put on a rack to cool completely (well maybe not completely) before slicing.
Here's a handy video on using a KitchenAid to knead bread dough:
---
---