Spelt and Honey Bread (a gluten-free soda bread)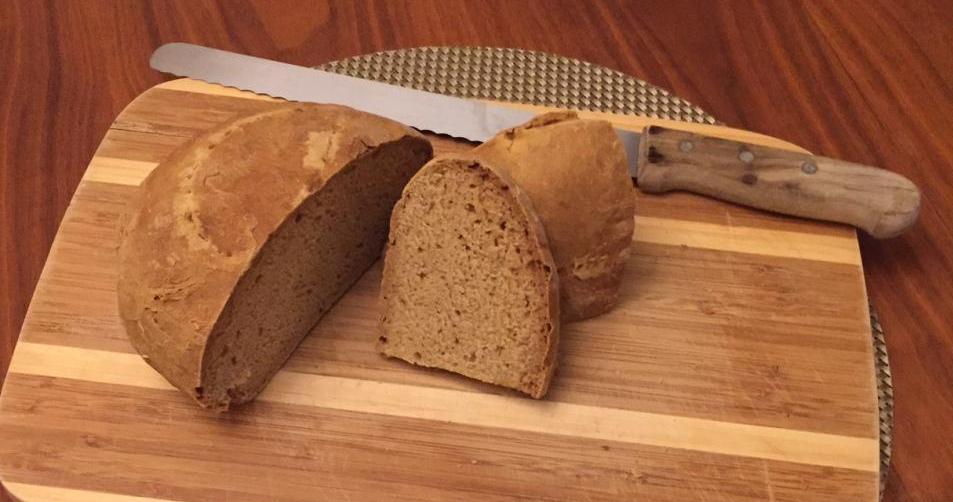 Spelt and honey bread is the result of finally making it to The Flourist*. Once there, I had a lovely chat with Shera (sorry if I've butchered your name!) about gluten-free flours. She recommended spelt** as an alternative, so I ended up buying a bag of the Organic Sifted Spelt Flour. I have never baked with spelt before so I decided to keep it simple for the first outing and I made a soda bread based on Sugarlovespices.com's No Rise Rustic Bread.  I used honey instead of maple syrup and tinkered a bit with the olive oil and water but basically it's the same simple recipe. It was super fast to put together and was delicious.
**NOTE** Spelt does contain gluten, but it is different than regular wheat gluten. Don't mess with it before consulting your doctor, if you are celiac.  You can read a bit more about it here.
Ingredients
3 cups spelt flour (plus about 1/2-1 cup more for kneading the dough)
1 teaspoon sea salt
1 teaspoon baking soda
2 tablespoons honey
2 tablespoons extra virgin olive oil
1 cup water
Method
Preheat oven to 375° F and lightly flour a pie plate (or baking tray).
Combine flour, salt, and baking soda in a large mixing bowl.
In a 2 cup measuring cup, combine the water, oil and honey.
Mix the wet ingredients into the dry, until a dough forms (my dough was quite wet and sticky).
Scrape the dough onto a well floured work surface and begin gently kneading the dough to shape, adding flour as you go to keep it from sticking (it will take about 3 minutes of adding flour and kneading – be patient, it'll come together).
Once you reach a smooth consistency, shape the dough into a 6-inch diameter round loaf.
Place it on the prepared pie plate.
Using a sharp knife, score it in a semicircle.
Bake until Golden brown and firm to the touch, about 50 minutes. I did the ol' thump test on the bottom of the loaf to be sure.
Let bread cool for at least 45 minutes before serving or cutting. It's worth the wait.
Makes the perfect size for a soup and salad dinner.
*The Flourist is cool concept made real. They are Canadian (Vancouver-based) and the source for "100% traceable grains, beans, and freshly milled flours. Stone-milled to order, and delivered to your door." Their hashtag #edibletransparency actually means something. You can  find out who grew what you are eating and read their stories (their packaging includes bios). Many Canadians are completely disconnected from our food system and have no clue where their food comes from. It's time that changed and that we begin to understand that we need to support our national and local farmers.
---
---