Christmas Morning Breakfast Casserole (T'was the night before Christmas)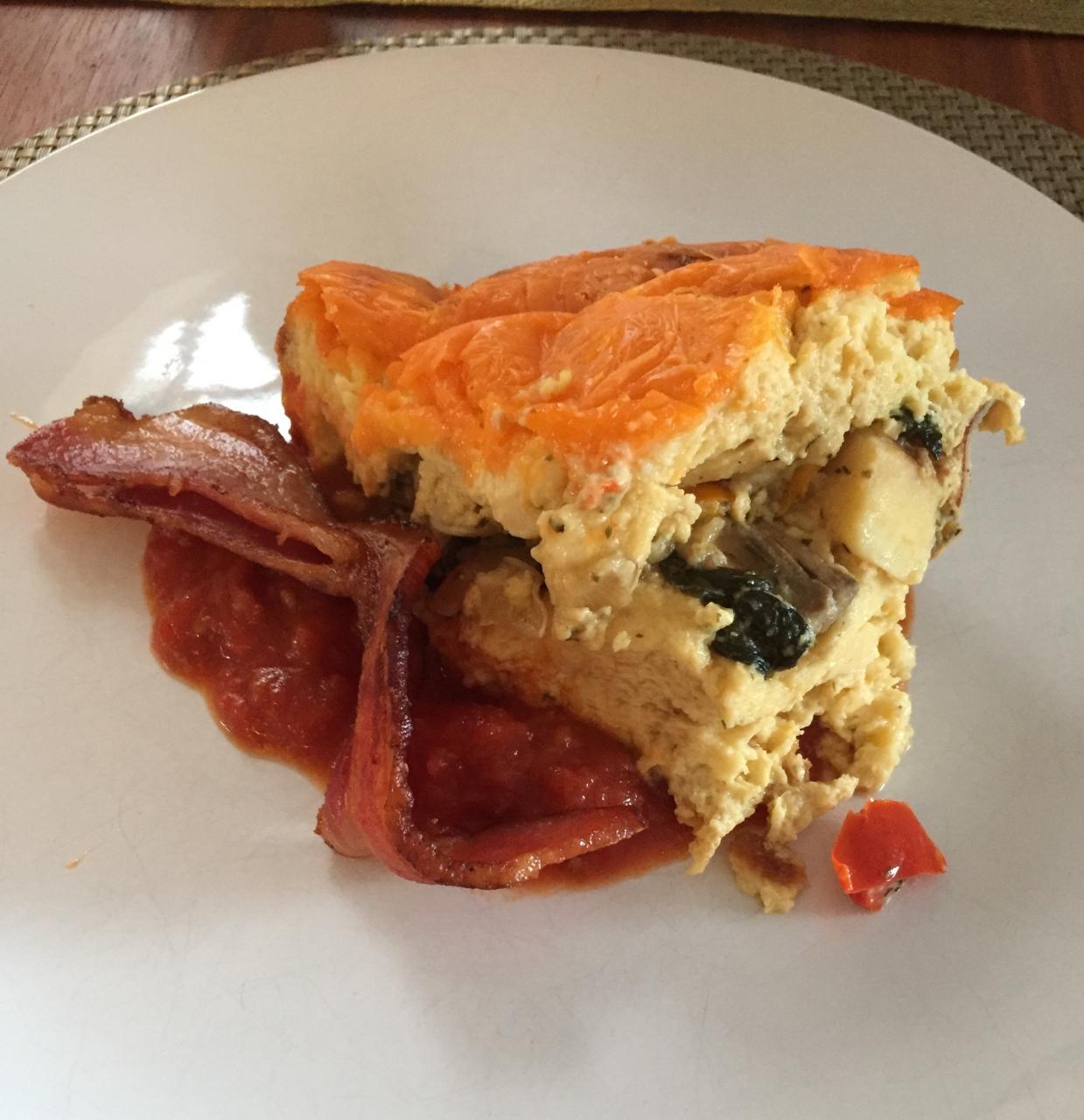 T'was the night before Christmas and all through the house, not a creature was stirring…actually, not true. Me, I was stirring…eggs for this recipe.
I have made Best of Bridge's Christmas Morning "Wife" Saver in the past and am all for not having to cook on Christmas morning while everyone else lounges around drinking coffee. I also happened to have about a cup of left over filling from the Vegetable Strudel I had made and I thought it would go well with the eggs (it did). Given we were going to cook up bacon anyway, I thought why not make the casserole vegetarian. So I did. Here's how it goes.
Ingredients
12 slices of bread that has been left out to get slightly stale (it absorbs the egg and milk bettter), cubed. I didn't bother removing the crusts.
1 cup roasted veggies if you have them. If not, chop up some ham or do up some sausage and chop that up.
5 large eggs
2 cups milk
1 small onion, diced
2 tsp Worcestershire sauce
1 tsp dijon mustard (dried if you have it, wet if you don't – I used wet)
1 cup grated cheddar cheese
Method
The night before, butter a medium-sized casserole dish.
Cover the bottom with cubed bread.
Add a layer of the roasted veggies. Or use chopped ham if you want meat.
Cover with another layer of cubed bread.
In a large bowl, whisk the eggs and milk together.
Add the Worcestershire sauce, mustard, salt and pepper, and onion.
Pour over the bread mixture and let it soak through the layers.
Cover and put in the fridge until morning.
Preheat oven to 350 F.
Grate the cheese and spread over the top of the casserole.
Bake, uncovered for 1 hour.
Cool at least 10 minutes before serving.
Serves 4
---
---