Chicken Shawarma in the Oven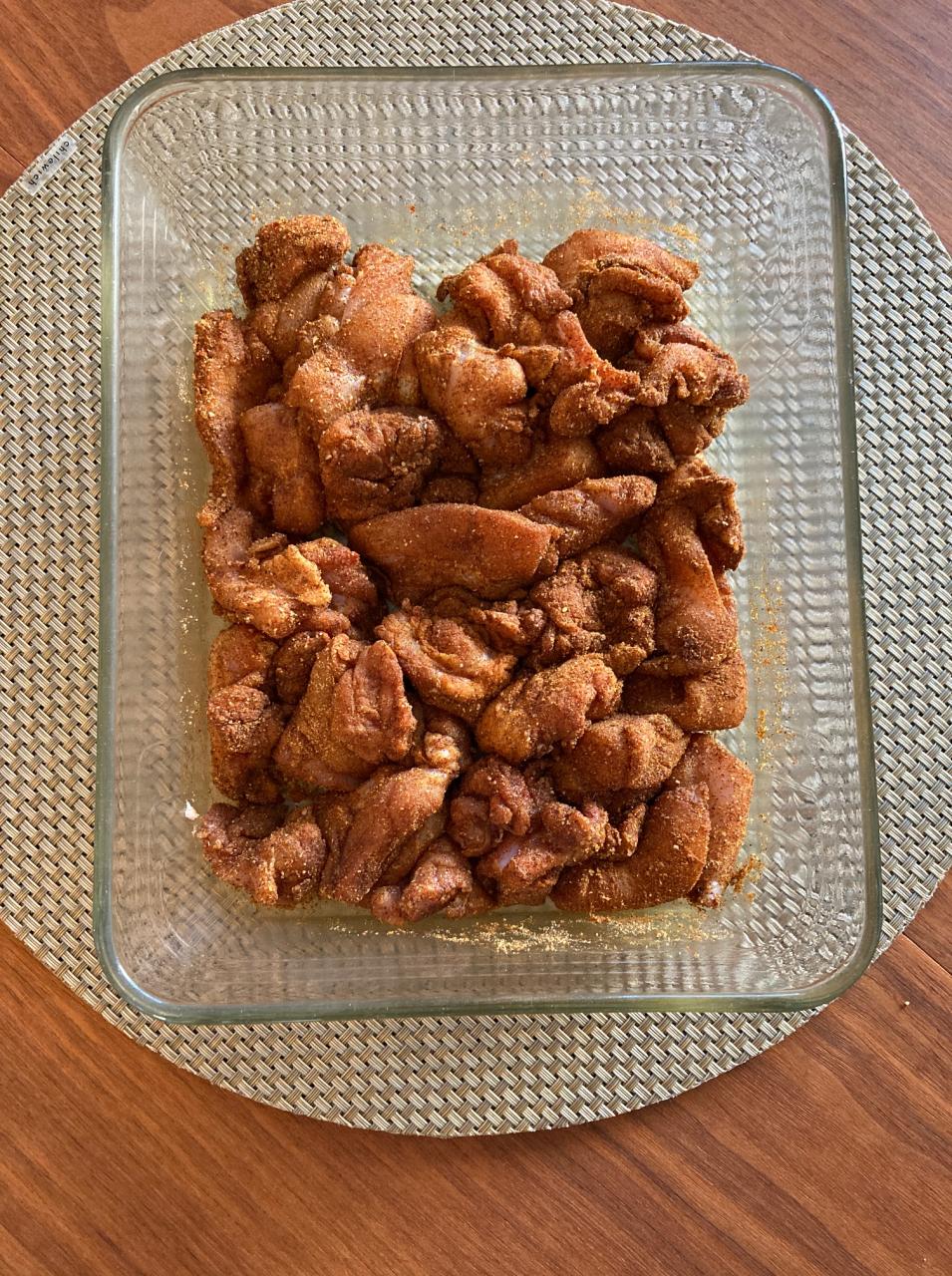 I first "saw" this shawarma on Netflix (Nadiya's Time to Eat). There were a couple other goodies on that show too (like the curried jack fruit, which is on my list). Anyway, I decided to make it, and I have to say it really is very, very good (and super easy). I can see doubling or tripling the recipe and making a whole whack of this for a crowd (once we are allowed to have crowds again).
I served it with homemade tahini sauce which is also a cinch.
Ingredients
6 boneless, skin on chicken thighs (or get boned and save the bones for broth), cut in good sized chunks
2 tbsp corn flour (not cornmeal, corn flour…it is different and it's also gluten-free which is a plus if you are feeding folks with gluten sensitivities)
2 tsp sea salt
1 tsp ground cumin
1 tsp ground coriander
1 tsp paprika
1 tsp ground turmeric
½ tsp ground cloves
1-2 tsp cayenne (to your heat preference)
1 tsp ground cinnamon
1 tbsp  oil
Tahini sauce
1/2 cup tahini
Juice of one lemon
1/2 tsp garlic powder
1/2 tsp salt
healthy pinch of cumin
1/2 cup cold water
Whisk the ingredients together in order and put it in the fridge until you are ready to use it.
Method
Mix together the cornflour, salt, and all the spices.
Put the chicken pieces in a bowl, drizzle on the oil and give it a stir.
Add the dry spice mix and stir to coat all the chicken pieces well.
Marinade it the fridge for 24 hours (you don't have to but I did)
Preheat oven to 350 F.
Layer the pieces of chicken in a lightly greased loaf tin and press down, then bake in the oven for 40-50 minutes.
When the shawarma is ready, leave it in the tin for 10 minutes so that all the juices can go back into the chicken.
Serve from the tin or tip it out on a board and slice.
Serve with rice or on flatbreads with whatever fixings you like.
Any leftovers (ahahahah there won't be any) can be kept in the fridge, or frozen.
---
---