Ras el Hanout Baked Moroccan Chicken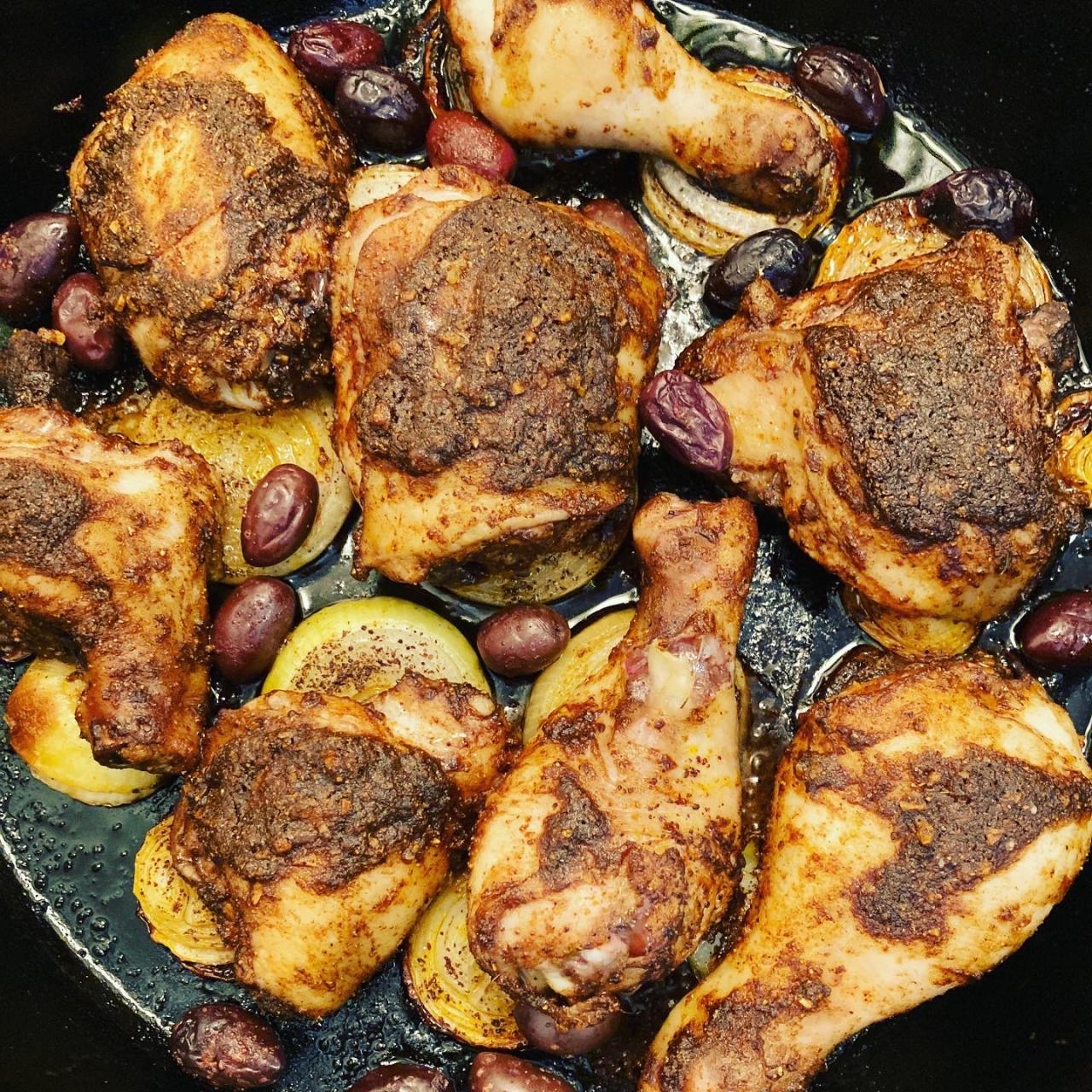 For this Moroccan chicken I used the marinade for grilled Moroccan Chicken (but left the skin on and upped the garlic) and make a rack of sliced onions sprinkled with sumac olives to bake instead of grill (no BBQ).
Ingredients
4 chicken legs (skin on), separate leg from thigh
2 tsp kosher salt
2 Tbsp Ras el Hanout (buy it or make your own, there are plenty of DIY recipes on the web)
4 Tbsp olive oil
4 cloves garlic, minced
zest and juice of one lemon zest
2 onions peeled and sliced in rounds
1-2 tsp sumac
1/2 tsp salt
1/2 cup black or green olives
olive oil for the roasting pan
Method
Mix the salt, Ras el Hanout, olive oil, garlic and zest of the lemon into a paste.
Coat the chicken pieces with the spice paste and marinate overnight (or at least an hour).
Preheat oven to 425 F.
Coat the bottom of a black cast iron frying pan (or line a cookie sheet with baker's parchment).
Place layer of onion down and sprinkle with sumac and salt.
Put the chicken on top of the onion rack.
Throw in a handful of olives.
Bake for 30-35 minutes or until juices run clear.
Remove from the oven and let rest for 5 minutes.
Drizzle on the juice from the lemon.
Garnish with parsley and mint (optional). Serve with rice, couscous, quinoa or potatoes and a side of your favourite veg. In this case I had made Asparagus Salad so I served it with that. This was easily one of the most flavourful chicken dishes I have made in ages.
---
---