Spaghetti Bolognese…Italian for Comfort Food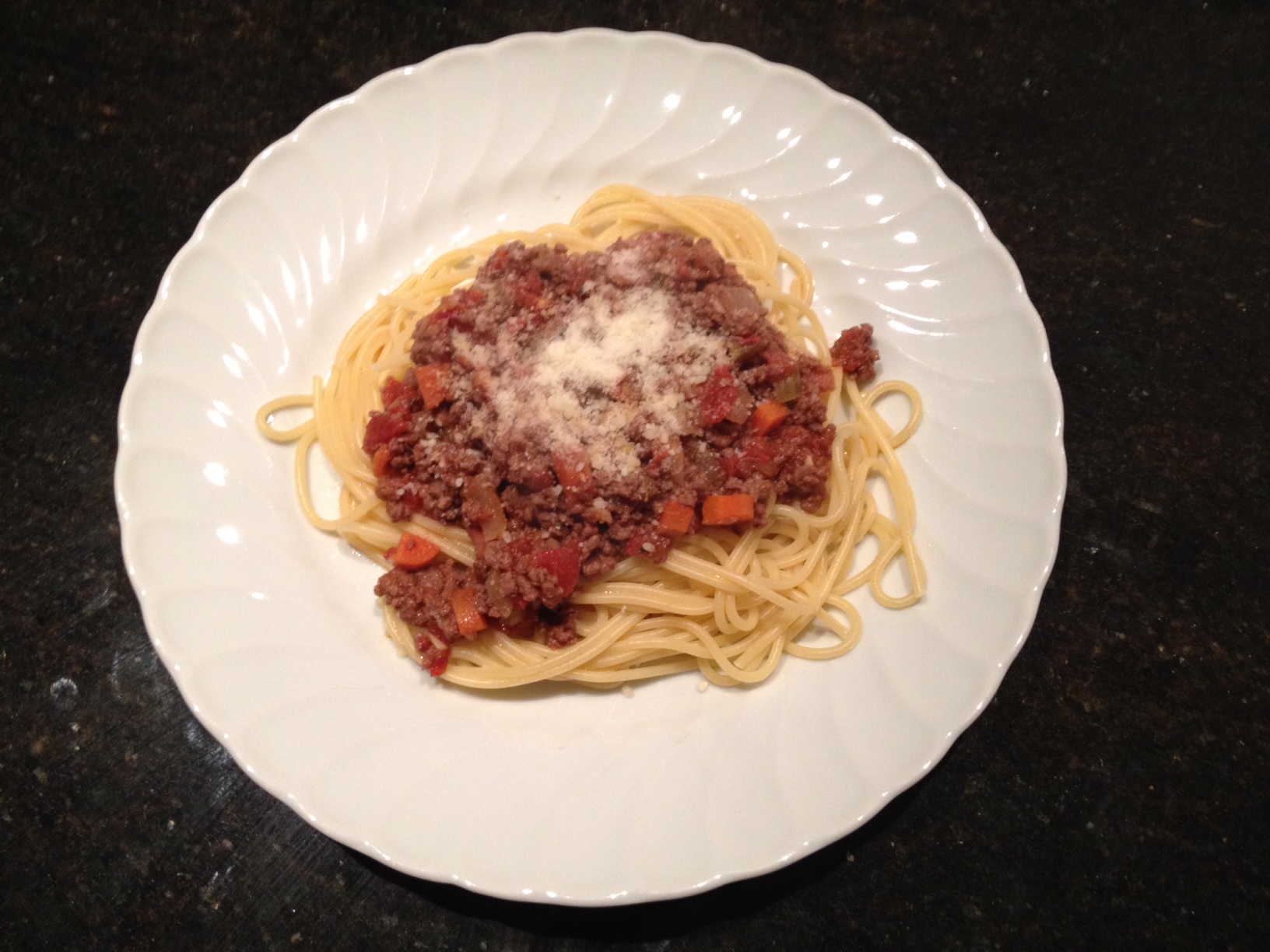 I told my friend Paula I'd cook her dinner and asked her what she wanted.  "Spaghetti" was the response.  Normally I just wing spaghetti sauce with whatever I have on hand but today I decided I'd have a look to see if what I think is "Spag Bol" is really authentic.  Not even close. I never put in red wine (an excellent idea) and I normally tart it up with way more various grasses and spices than are necessary.  I decided to follow a recipe from the Telegraph that purported to be the Real McCoy.  Unfortunately, the recipe missed a few things (like when to add certain ingredients that were listed)…but I'm pretty good as making it up as I go along so that's what is recorded below. Oh and I doubled the garlic.  Result:  I don't care if it's authentic or not…it's really good.
Ingredients:
2 tbsp olive oil
6 rashers of streaky 'pancetta' bacon, chopped or any good quality bacon (I used President's Choice Wilthshire Smoked Bacon)
2 large onions, chopped
6 garlic cloves, crushed
2 carrots, chopped
Stick of celery
1kg/2¼lb lean ground beef…I used close 3 lbs so added extra tomatoes
2 large glasses of red wine (I used a demi bottle of Valpolicella)
1 796 mL can organic diced tomatoes
1 540 mL can chopped tomatoes (I used Alymer Accents Garlic and olive oil)
2 fresh or dried bay leaves
salt and freshly ground black pepper
Cooked pasta of your choice.
Freshly grated parmesan cheese, to serve
Directions:
Heat the oil in a large, heavy-based saucepan and fry the bacon until golden over a medium heat. Add the onions and fry for about 3 minutes, add garlic, frying until softened. Increase the heat and add the minced beef. Fry it until it has browned. Pour in the wine and boil until it has reduced in volume by about a third. Reduce the temperature and stir in the tomatoes, carrots, celery, bay leaves, salt and pepper.
The recipe says to cover with a lid and simmer over a gentle heat for 1-1½ hours until it's rich and thickened, stirring occasionally. I didn't bother covering it and it was fine but maybe that's because of the extra tomatoes.
Cook the pasta in plenty of boiling salted water according to the package directions. Drain and divide between plates. Sprinkle a little parmesan over the pasta before a healthy spoonful of sauce (or two). Sprinkle with a little more cheese and fresh pepper.
Serves 4 with left overs.
---
---