Quinoa and Kale Salad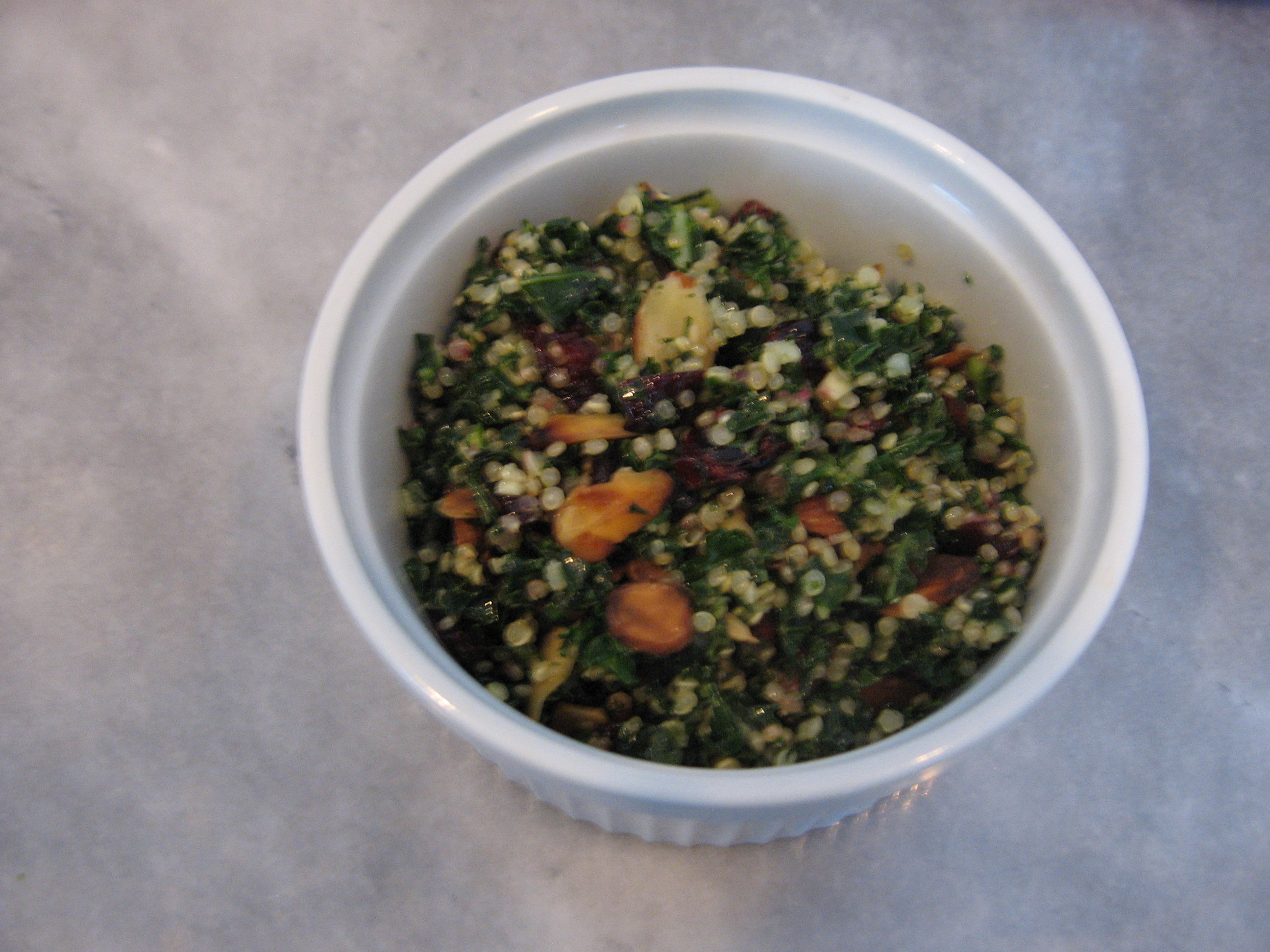 Quinoa and kale are great combined. Add in aromatic toasted almonds for crunch and dried cranberries for a hit of sweet to offset the kale and WHAM…yummy salad (even if the photo is a bit blurry…I was shaking from hunger).
Ingredients:
1 bunch kale washed and spun with the centre stem removed (it's too tough for this salad)1 c. quinoa cooked
1 c. toasted sliced almonds
1  c. chopped dried cranberries
Dressing:
Juice of 1 lemon
2 Tbsp olive oil
1 clove garlic, minced
Salt and pepper to taste
Make the dressing first and let the flavours mellowed while you wash and finely chop the kale (layer the leaves and the roll them before chopping, it's easier).
Toss the kale in the dressing and let sit while you prepare the other ingredients.
Quinoa:
Rinse the quinoa thoroughly in running cold water. Bring 1 1/2 c. of water to a boil. Add the quinoa and 1/2 tsp of salt and stir. Bring the mixture back to boil, cover and reduce heat to a gentle simmer and let simmer for 15 minutes (until water is gone). Remove from heat and let stand for an additional 5 minutes.  Turn out onto a tray and let it cool before adding it to the salad.
Toast the almonds and chop the cranberries. Toss the quinoa, almonds and cranberries into the kale.
Serves 6. Refrigerate the leftovers for a great packed salad.
---
---