Breakfast fuel. Cookies anyone, anyone, Bueller?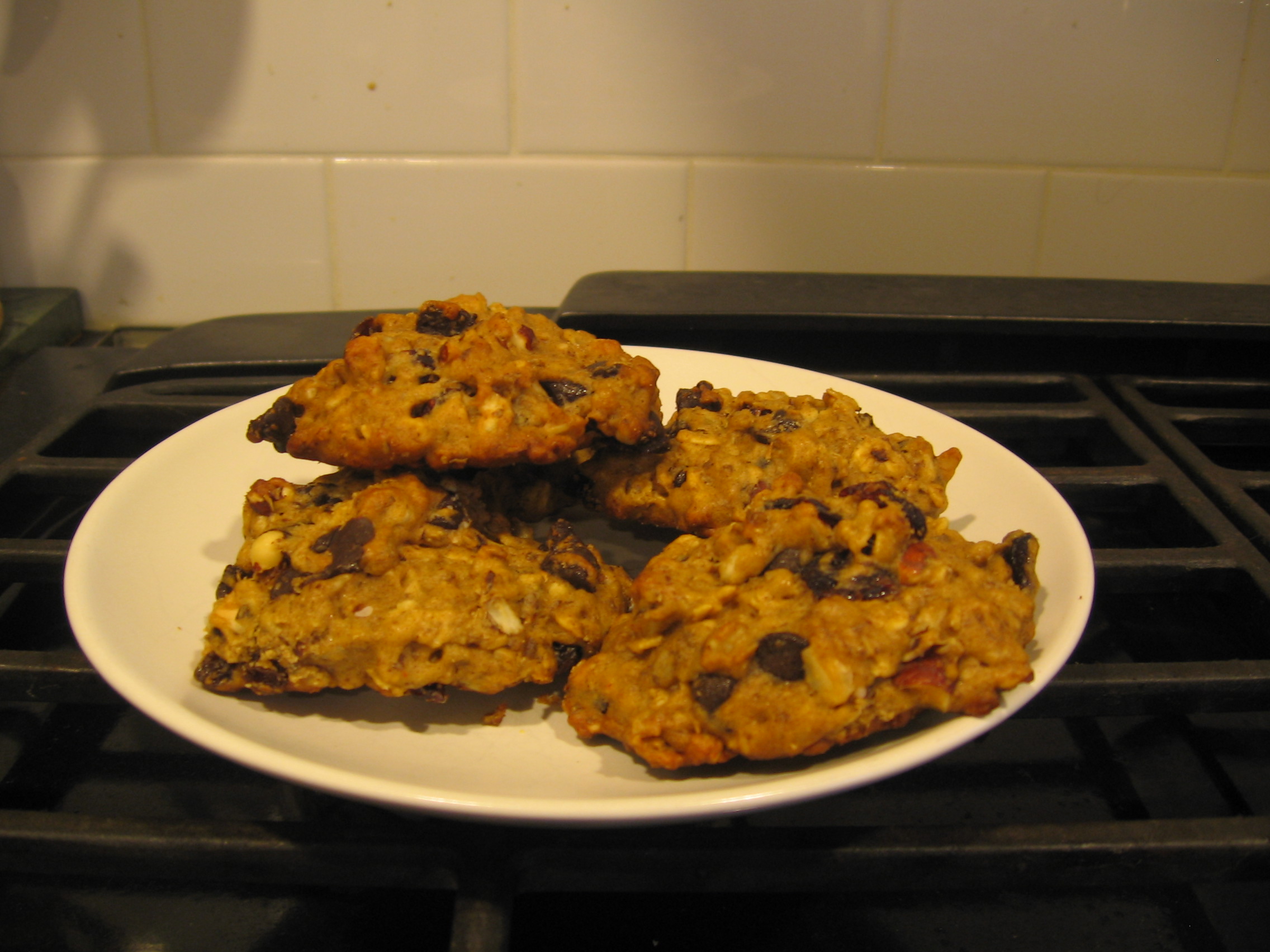 Breakfast cookies…sounds like a bad idea right? Not so in this case. Just as every day should start out with a good breakfast I thought I'd start this blog with a breakfast fuel recipe. Sadly, I have never been a big breakfast eater (aside from coffee which I am told does not count). I'm also pressed for time in the mornings and have kids who wait until the last possible moment to roll out the door (sound familiar?). For active kids this is obviously a problem, not just for physical performance but also for school. Getting my kids to eat breakfast before school was not working so well and store bought granola bars and the usual stuff you find in the breakfast isle is so loaded with sugar it's crazy.  As luck would have it, my job brought me into contact with the good folks at Hapifood Group Inc. the makers of…wait for it…Holy CrapTM and Skinny BTM. Their site had a recipe for Holy Crap Breakfast Cookies by chef Julie Van Rosendaal  (check out her blog at Dinner with Julie it's a Canadian food blog winner!). The cookies caught my attention because they looked healthy (not to mention allowing me to make use of the banana graveyard in my freezer). The best part, my kids love them (dancer and soccer player both).
Julie has very kindly given her permission to reproduce her recipe here (with a few minor modifications).
You will need:
Dry ingredients
1 c. oats (large flake)
1 c. all purpose flour (I suppose you could use ground almonds)
1/3 c. brown sugar
1/4 c.  Holy CrapTM or ground flax seed
1 tsp cinnamon
2 tsp baking powder
1/2 tsp baking soda
1/4 tsp salt
1/2 c. each dried fruit and nuts (I used cranberries because my kids hate raisins and sunflower seeds and…chocolate chips)
Wet ingredients
2 very ripe bananas (if you have a banana graveyard in your freezer use these)
1/4 c. yogurt
1/4 c. peanut butter (or Wow Butter which is made from toasted sesame seeds if you don't want peanuts)
1/4 c. canola oil (I used vegetable oil and they came out just fine)
2 large eggs
1 tsp vanilla
Method
Preheat oven to 350 F.
Stir dry ingredients together in a large bowl.
Mash bananas well and whisk in the remaining wet ingredients.
Add wet ingredients to dry ingredients and stir well.  Let the batter stand for 20 minutes.
Line two cookie sheets with parchment paper.
Spoon batter in large spoonfuls (think 2 Tbsps each). You don't need to space them too much as they don't spread a lot.
Bake for 15 minutes or until golden and springy to touch (I found 15 minutes was about perfect).
Let cool completely, bag and freeze (they freeze really well).
---
---