Scary Delicious Spot Prawn Stock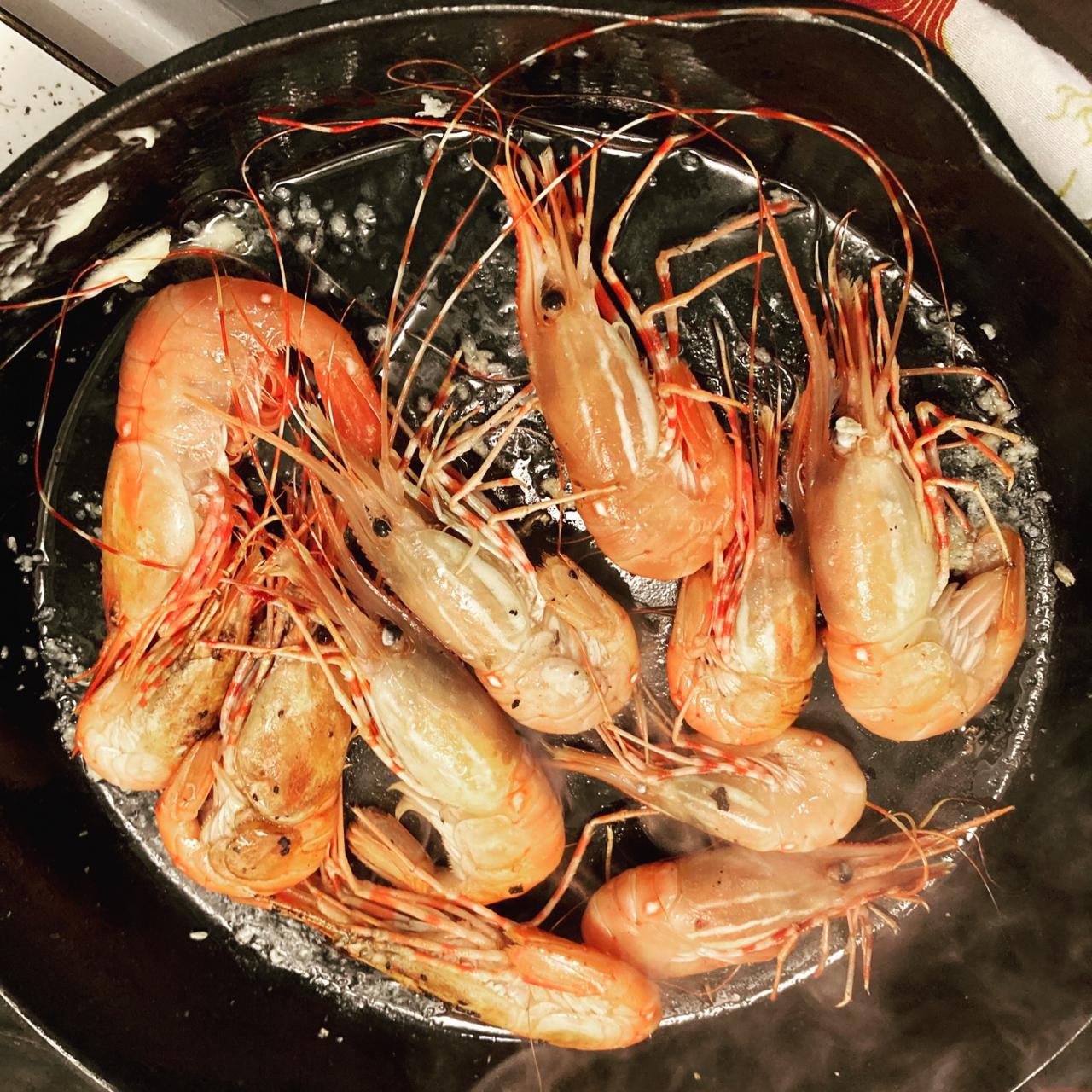 I had never cooked fresh spot prawns before and decided to give it a whirl. I got 1 lb of prawns from Skipper Ottos not thinking too much about how I was going to prepare them. It didn't occur to me, until I got there and saw people in line with plastic buckets, that they would be alive. I blame brain fog from COVID-19. At first I thought about a shrimp boil, but then Santiago, the very helpful spot prawn "disher outer," mentioned pan frying them in butter and garlic, heads on and all. Now here is where my laziness kicked in. Sounded good (at the time).  But, karma has a way of evening the score.
I had also ordered some frozen hake fillets and yellow tail rock fish so I packed the bagged spot prawns in a cooler bag with my frozen fish. By the time I got home the prawns weren't moving and I thought I'd killed them…nope.
Santiago had warned me that if the prawns died with their heads on then the meat would go mushy quite quickly so I thought I had better cook them up right away. I put a pot on to boil, but then started worrying about how long it would take, so I switched over to my trusty Lodge cast iron frying pan, melted some butter and let the pan heat up. Then I tipped in my spot prawns. At first it all seemed like your usual shrimp fry up…until…the prawns woke up. I guess the cold from the frozen fish must have made them dopey because all of a sudden they started jumping (I kid you not) out of the pan. Of course I let out the most ridiculous scream and then while I scrambled around looking for a pot lid big enough to cover my frying pan, more jumped out. I managed to get them all back in the pan and then had to hold the lid down. It was at that point I started feeling bad. Not bad enough not to eat them all when they were done, but I will admit to a pang of remorse. It's also kind of gruesome. You have to twist their heads off.
To make up for my barbaric spot prawn eating ways, I decided to get every last bit of goodness out of the crustaceans that had given their lives to feed me. So, after I finished eating all the prawns (I never made it past standing in the kitchen snarfing them down), I put all the heads and shells into a pot of 12 cups of water and turned on the heat. Then I went looking for a good shrimp stock recipe. All of them were pretty similar so I followed Emeril's Rich Shrimp Stock recipe as much as I follow any recipe, which is to say, loosely. What follows is what I did.
Ingredients
Heads and shells from 1 lb of spot prawns pan-fried in butter and garlic
12 cups water
1 Tbsp of kosher salt
1 tsp black pepper balls
2 large bay leaves
1 Tbsp dried parsley
1 large onion, ends trimmed, peel on, cut in half
4 unpeeled garlic cloves
3 carrots rough chopped
tops and fronds from one fennel bulb
1 heaping tsp of Old Bay Seasoning
Method
Put everything in a large stock pot and bring to a boil over high heat.
Reduce to low and simmer for at least 1 hour.
Strain, cool and store in the fridge (or freeze if you aren't going to use it within a couple of days).
---
---