Corn Syrup Oatmeal Bread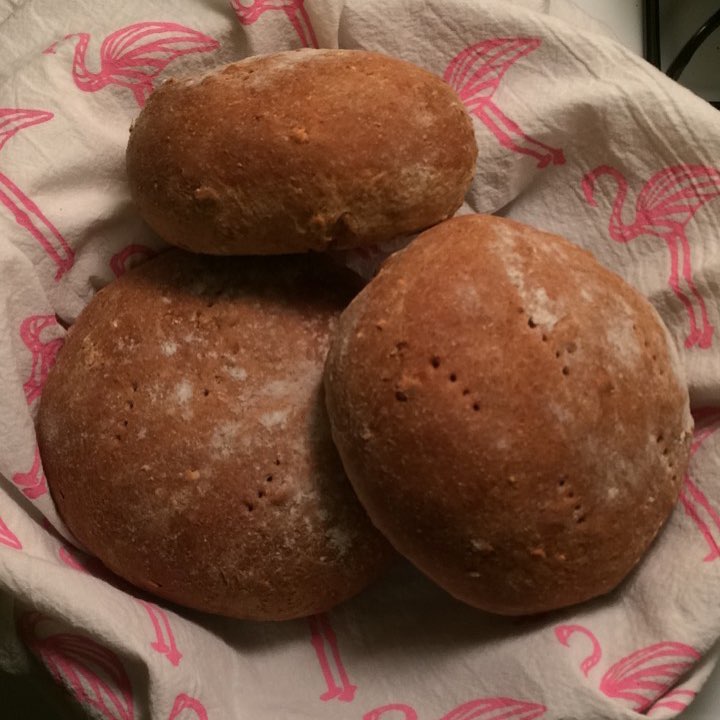 This bread is a variation on Bob's Red Mill, Honey Oatmeal Bread. I bought some Vital Wheat Gluten to see whether it would make a difference in the rise for a whole wheat flour bread. I didn't have enough honey so I substituted white corn syrup and I had a huge bag of rye flour so I substituted some of that for the whole wheat flour called for in the original recipe. I also got lazy and used my Kitchen Aid with the dough hook to do most of the kneading.
Ingredients
4 C whole wheat flour (plus enough to make a stiff dough)
1 C rye flour
2 Tbsp Vital Wheat Gluten
3 packages Active Dry Yeast (that works out to 6 3/4 tsps for those of you who buy yeast by the jar)
2 C milk (I had a tonne of skim milk powder so I just made up 2 C worth of that (1/2 C powder to 2 C water)
1/3 C corn syrup (light or dark…I suspect it's just the sugar to activate the yeast that is the key)
1/4 C oil (I used grape seed oil)
1 Tpsp salt (I used sea salt)
1/ C Scottish Oatmeal (I just used the whole oats I had kicking around)
Method
In the bowl of your Kitchen Aid (or a large bowl if you want a little workout), combine 2 C of the whole wheat flour and the yeast.
In a medium-sized pot, heat the milk, corn syrup and salt, until warm.
Add the wet ingredients to the dry ingredients and beat at a low speed for 30 seconds. I ended up doing this part by hand.
Turn up the speed on your mixer and beat for 3 minutes, scraping down the sides as you go.
In a medium sized bowl, combine the oats, 2 more cups of the whole wheat flour, and the wheat gluten.
With the mixer on stir, add in the oat, wheat gluten, and flour mixture.
Once the dough is combined, add 1 C rye flour. Let that combine and then keep adding more whole wheat flour until you get a stiff dough.
Turn the mixer to medium and let the dough hook "knead" the dough for 8-10 minutes.
Once the dough has come together (the sides of your bowl should be clean), turn it out onto a board and keep kneading until you get all the cracks out and the dough is smooth and elastic.
Butter the sides and bottom of the Kitchen Aid bowl (why dirty another bowl) and place the dough in the bowl, cover, and let rise in a warm place until doubled (about 45 minutes to 1 hour).
Punch the dough down. Turn out onto a lightly floured board, cut the dough in half, cover and let the dough rest for about 10 minutes before shaping in to loaves.
Grease two standard bread pans (8 1/2 x 4 1/2) or 4 pie tins if you want to make smaller rounded loaves (which is what I did because I wanted to try them out as bread bowls).
Cover and let rise until doubled (about 30 minutes).
Bake at 375 F for 35-40 minutes. If you want to test for "doneness," thump the bottom of the loaf, just like Father Dominique, the Bread Monk. If it sounds hollow it's done.
Remove from pans and cool on wire racks.
---
---