Easy Baked Ras el Hanout Chicken Thighs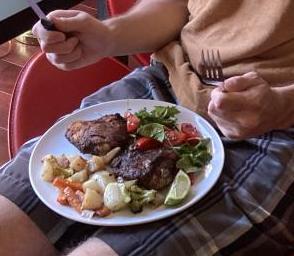 This is an easier version of Baked Moroccan Chicken Thighs.
Ingredients
4 chicken thighs, bone in and skin on
2 Tbsp Ras el hanout
2 heaping tsp sumac
2 tsp garlic powder
1/2 tsp salt
Fresh lime for serving
Method
Make a dry rub out of the spices and rub it all over the chicken thighs. Put the chicken in the fridge uncovered for at least an hour.
Preheat oven to 425 F and remove chicken from the fridge to let it come to room temperature.
Rough chop onions, carrots and potatoes to make a rack for the chicken (you can add any roasted veg you like).
Drizzle olive oil over the veg and stir to coat. Salt and pepper the veg to taste.
Line a baking sheet with baker's parchment or no stick foil.
Spread the veg out in an even layer on the baking sheet and place the chicken, skin side up, on top (evenly spaced).
Pop the whole works in the oven and bake 30-40 minutes (check it at 30 minutes to see how it's going).
It's done when the skin is nice and brown and the juices run clear (prick the meat).
Remove from the oven and let rest for at least 5 minutes.
Serve with a healthy squirt of lime and a green salad.
Serves 2.
---
---